"Got to Protect Your Quarterback" – Bengals OC Sets Expectations Pertaining Joe Burrow
Published 01/20/2021, 5:01 PM EST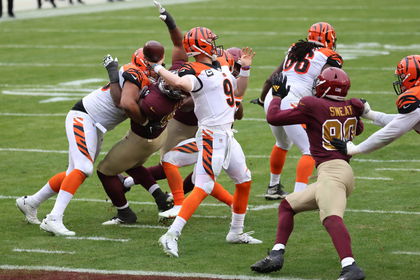 ---
---
Joe Burrow arrived in the NFL amidst much fanfare. As expected, the former LSU quarterback was the number one pick at last year's virtual NFL draft event.
ADVERTISEMENT
Article continues below this ad
Zac Taylor-coached Cincinnati Bengals had the privilege of bringing in the record-breaking college football superstar in the build-up to the 2020 NFL season. Of course, things have not gone as planned for the young prodigy.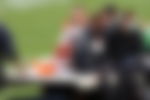 ADVERTISEMENT
Article continues below this ad
Burrow enjoyed a strong debut in the 13-16 loss to Anthony Lynn's Los Angeles Chargers. But, he had to wait until Week 4 to register his first win in the NFL. The Bengals beat AFC South franchise, Jacksonville Jaguars, by a 33-25 scoreline. Burrow went 25 of 36, throwing for 300 yards and 1 passing TD against 1 interception.
Joe was also in the running for the NFL Rookie of the Year along with Justin Herbert and Tua Tagovailoa, but all that changed in November. Burrow suffered a torn ACL, partially torn MCL, and also ruptured the structure of his knee. He is expected to be on a lengthy layoff.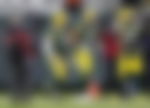 Bengals OC Frank Pollack looking forward to training with Joe Burrow
Despite his absence, the Bengals are already preparing for the 2021 NFL season with Burrow in mind. Zac Taylor welcomed Josh Pollack after it was confirmed that he would return as the team's offensive coordinator in 2021. Here is what Pollack said with regards to their plans for Burrow in the near future.
"That's Line 1 in every O-line room on all 32 teams. You've got to protect your quarterback. That's what everyone is trying to always constantly get better at and striving for. We've got a good, young quarterback. We've got to do everything we can to protect him. That's Line 1," Pollack said via Tyler Dragon of the Cincinnati Enquirer.
ADVERTISEMENT
Article continues below this ad
Burrow, on his part, is more than happy to see the Bengals retain the former Dallas Cowboys man.
"I think everyone was really excited when we hired coach Pollack. I don't know him personally. But I know Joe (Mixon) was really excited. He called me fired up, hootin' and hollerin', and was very excited. I know Zac's excited about the hire. So, I think he'll do a really good job with those guys and I have full faith in that," Burrow said earlier via NFL Network.
As per reports, Burrow is working hard to return ahead of Week 1 of the 2021 NFL season. The average time for a player to return from an ACL injury is between 9-12 months. If he does manage to reach his goal – which we are a bit skeptical of – it will be nothing short of a miracle.
ADVERTISEMENT
Article continues below this ad