Green Bay Packers' Aaron Rodgers Unfazed by Early Season Loss to Tampa Bay Buccaneers Ahead of their NFC Championship Game
Published 01/20/2021, 12:17 PM EST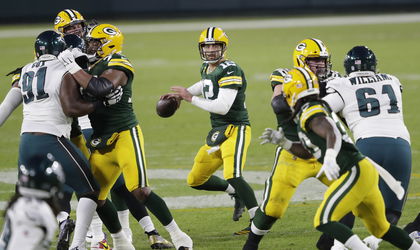 ---
---
Aaron Rodgers has been having a fantastic season. The Green Bay Packers' quarterback has been the leading force as the team accumulated a 13-3 record, the best in the NFC.
ADVERTISEMENT
Article continues below this ad
For the Packers, now they face Tom Brady and the Tampa Bay Buccaneers, after defeating the LA Rams in the Divisional Round of the Playoffs.
Aaron Rodgers spoke to Pat McAfee on his podcast, where he was asked whether the Buccaneers' win over the Packers meant anything going into their playoff fixture this weekend.
ADVERTISEMENT
Article continues below this ad
Rodgers opined that it won't make a difference in the grander scheme of things and used the example of the Bucs game against the Saints.
He said, "I think the Week 6 game matters just about as much as when the Saints went to Tampa and beat them 38-3. It obviously didn't affect them last week at all.
"We lost by 20 at their place, they lost by 35 at home. They just beat the Saints by 10. This is a finals game and things change, teams change and evolve and you get better or worse but not much staying the same." 
Aaron Rodgers not fazed by a loss to Buccs
Rodgers noted that the season is long and arduous, and teams go through many changes and phases. The team that starts the season is not the same that ends it. And Rodgers believes that the Packers have enough to beat the Buccaneers, despite the loss earlier in the season.
Rodgers added, "There's an evolution throughout the season of plays, play calling, adjustments, guys playing good, guys may be falling off, young guys stepping in.
ADVERTISEMENT
Article continues below this ad
"There's a lot of things that happen between then and now. I'll give it as much credence as they gave the 38-3 game. It meant nothing to them when they went out there and beat the Saints on Sunday."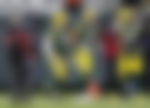 Can Aaron Rodgers and the Green Bay Packers defeat Tom Brady and the Buccaneers? This is a legacy game for both players, as the two have been rivals for much of their careers.
ADVERTISEMENT
Article continues below this ad
But now, only one can prevail and reach the Super Bowl. Rodgers may feel as though he needs it more, given the number of Super Bowl rings he has compared to Brady.