Packers' Davante Adams Talks About the Role of Jordan Love's Draft in Aaron Rodgers' MVP-Caliber Season
Published 01/16/2021, 1:42 PM EST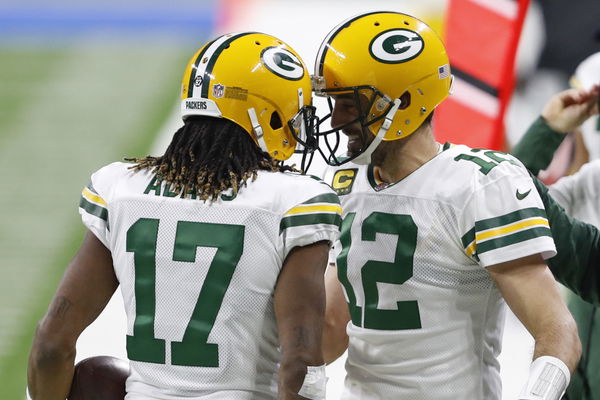 ---
---
Green Bay Packers' Davante Adams has had an insane 2020 season. With 18 touchdowns and over 1,300 yards, the wide receiver has been near unstoppable at times.
ADVERTISEMENT
Article continues below this ad
But another Packers player who's been enjoying a stellar season is their veteran quarterback Aaron Rodgers. The QB has been stepping up to the plate week in and week out. 
Now taking on the LA Rams in the NFC Divisional Round, Davante Adams discussed what helped Rodgers put up the incredible numbers he's achieved thus far.
ADVERTISEMENT
Article continues below this ad
Jordan Love's draft, not the motivator
During a segment of the Cris Collinsworth podcast, Davante Adams was asked how much the impact of drafting rookie QB Jordan Love played a role in Rodgers' phenomenal performances.
And Davante Adams had a pretty straightforward answer. "Honestly, if we had to say on a scale of 1 to 10, I will say 1," Adams said.
"I think that people, disrespect A-Rod, and stuff like that isn't what drives Aaron. He's the type of guy who's internally motivated and he is a beast."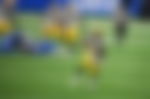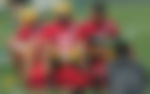 Adams also said that Rodgers' performances over the years have only gone on and made onlookers set an unnatural standard when it comes to the QB. 
"I think like he said a couple of times before that his down years are career years for certain guys. So we've gotten really spoiled over the years from all the great plays that he's consistently made."
And while it would have made quite the story if it were the case, Adams reiterated that the drafting of Jordan Love had nothing to do with Rodgers' performances in 2020.
Davante Adams pegs Rodgers for a 3rd MVP title
It's unlikely that the recipient of this season's MVP-award will be a unanimous one. But regardless, most people's money is on Rodgers to win his 3rd league MVP title. 
ADVERTISEMENT
Article continues below this ad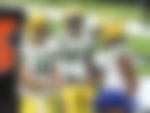 "Aaron Rodgers is a beast. He has 2 league MVPs, about to be 3. So when you have that type of a player, who's just never satisfied with any type of greatness you achieve. Then this is the type of progress you get," said Adams.
Rodgers has struggled slightly in 2019. Over the course of that season, he could register only 26 touchdowns. But come 2020, the 37-year-old has come out all guns blazing. And now he looks set to mount a challenge for a second Super Bowl title as well.
ADVERTISEMENT
Article continues below this ad