'I Thought it Was Hilarious'- Drew Brees & Tom Brady Head into Playoffs With High Spirits After Viral Meme
Published 01/15/2021, 5:30 AM EST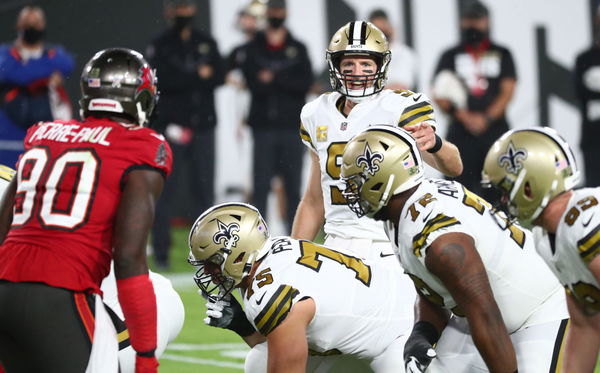 ---
---
Tom Brady and Drew Brees have a combined total of close to 160,000+ passing yards. On top of that, they have 7 Super Bowl rings between them.
ADVERTISEMENT
Article continues below this ad
Despite being opponents on the field for 2 decades now, the quarterbacks share a great bond of friendship. So when Brady tweeted a meme depicting a history channel preview of their upcoming playoff game, Brees was in stitches. 
A relationship built on trust and respect
ADVERTISEMENT
Article continues below this ad
While talking to the media on Wednesday, Brees said that the two were texting one another on Monday after Brady posted the meme on Twitter.
"We were texting back and forth on Monday, just kind of chuckling at this whole scenario, right," said Brees.
"Tom and I have a friendship and a mutual respect," he added.
With a combined age of 85, they will set an NFL record for the oldest starting QB pairing in history. Something that Brees seems to be well aware of.
Drew Brees saw this coming
The quarterback said that after Brady signed with the Tampa Bay Buccaneers, he knew that they were going to end up meeting in the Playoffs eventually. 
"When Tom Brady signed with the Buccs, and I knew that he was coming to our division, I envisioned this game. What was that, 9 months ago? 8 months ago?
"I envisioned this game happening, because I knew our aspirations as a team, to be in the playoffs and beyond."
With the wealth of experience that Tom Brady has, Brees was sure that he could guide the Buccaneers to their first postseason appearance in 13 years.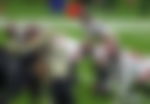 "I certainly knew what he was bringing to the Bucs and that talented roster. And so, I think this is probably where we all envisioned being at this point in the season," Brees said. 
ADVERTISEMENT
Article continues below this ad
The tie is a close one to call. With both teams having rosters capable of winning the Super Bowl, it might come down to which quarterback performs better under pass rush.
But whatever the outcome on Sunday, one can be sure to expect fireworks from both quarterbacks in this NFC Divisional Round matchup.
ADVERTISEMENT
Article continues below this ad