'It Wasn't My Decision' – Aaron Rodgers Gutted About Strange 4th Down Call Against Buccaneers in NFC Championship Game
Published 01/24/2021, 7:23 PM EST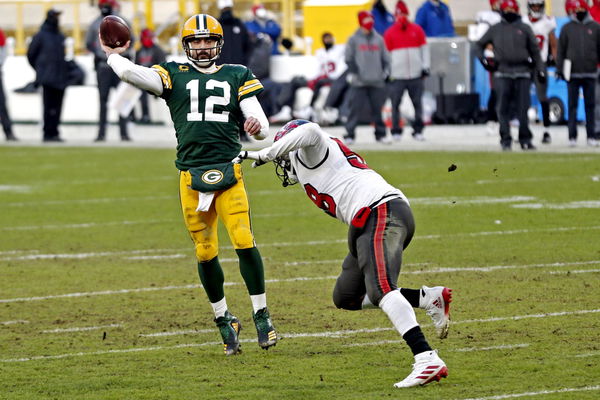 Aaron Rodgers is now 1-4 in NFC championship games. The Green Bay Packers registered their second consecutive defeat in the NFC title game after losing to the Buccaneers 31-26.
This loss sure left a bitter taste for the Packers. After riding high on the MVP-esque performances of Aaron Rodgers all season and going on losing the NFC title tie in their own backyard, the Packers have a lot of soul searching to do in the off season. 
Wait for second Super Bowl continues for Aaron Rodgers
ADVERTISEMENT
Article continues below this ad
While talking to the media following the defeat, a dejected Aaron Rodgers said that he was gutted not to make the Super Bowl following a phenomenal season of football. 
"A long season we put so much into it. To get to this point. We had our chances," said Rodgers.
"It's really tough to get to this point, really, really tough. Especially with it only being one-bye week playoffs. It's a grind just to get to this point. And that makes the finality of it all."
"It hits you like a ton of breaks… And it's just a gutting feeling in your stomach." he added.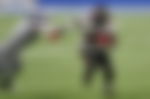 Commenting on the decision to go for a field goal while 8 points down and with barely any time left on the clock, Aaron Rodgers said that it wasn't a call made by him. Rather, it was one made by head coach Matt LaFleur.
"I didn't have a decision on that one. It wasn't my decision. Understand thinking about two minutes with all of our timeouts, but yeah, there wasn't much," said Rodgers.
A game to forget for the Packers
ADVERTISEMENT
Article continues below this ad
The Green Bay Packers O-Line just couldn't withstand Tampa's constant Blitz. Aaron Rodgers was sacked 5 times by the Tampa Bay Buccaneers defense, who even forced the quarterback to make an interception early on in the game. 
The Bucs were all over the Packers in the first half of the game as they took a 21-10 lead. Though the Packers did their best to claw back into the tie, Rodgers' heroics just weren't enough to seal the deal. 
Tampa Bay now moves on to play their first Super Bowl since 2003. For the Packers and Aaron Rodgers, though, the road to the Super Bowl gets pushed back by at least another year.
ADVERTISEMENT
Article continues below this ad