NFL Analyst Claims Chiefs Cannot Beat Buffalo Bills without Patrick Mahomes
Published 01/19/2021, 1:10 PM EST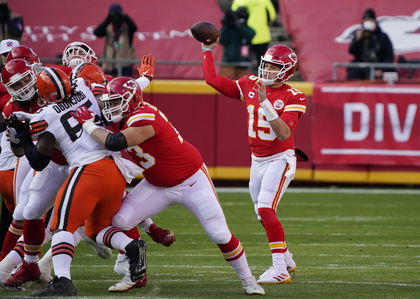 ---
---
The Kansas City Chiefs are on the verge of going to their second consecutive Super Bowl. The Chiefs defeated the Cleveland Browns in the Divisional Round to advance to the AFC championship game. Now they face the Buffalo Bills in the AFC championship. However, they may be without star quarterback Patrick Mahomes, who suffered a concussion against the Browns.
ADVERTISEMENT
Article continues below this ad
NFL analyst Marcus Spears spoke on Get Up about the Chiefs' game against the Bills. He believes that the Chiefs have almost no chance to defeat the Bills without Patrick Mahomes.
While he noted that the Chiefs have other good players right now, Patrick Mahomes makes them much better, and helps the team tick and play on another level.
ADVERTISEMENT
Article continues below this ad
"I don't think they can beat the Bills without him. We've seen the Bills be explosive offensively, and sometimes you just have to match that.
"If Pat Mahomes is not on that field, I can't see them matching that. Tyreek Hill, Travis Kelce, all the guys that you can mention. But they're not the same guys without 15 back there." 
Can Patrick Mahomes recover in time?
He added that while players like Travis Kelce and Tyreek Hill are some of the best players in their position, Mahomes makes the entire Chiefs team work.
He pointed back to the Super Bowl last year, where Mahomes was the X-factor as the Chiefs were able to get the win. He believes that the absence of Mahomes means that they cannot match the intensity of the Bills.
"I know that Kelce is a top tight end regardless, I know Tyreek is a top wide receiver, regardless. But 15 adds something extra that makes everybody fear everything that is going on the field.
ADVERTISEMENT
Article continues below this ad
"The Chiefs have played tight games this year. The difference has been Patrick Mahomes. Let's go back to the Super Bowl. If there's no Patrick Mahomes, they don't win that game."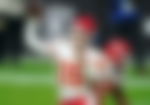 Can the Chiefs defeat the Bills? Mahomes must fulfill all the requirements of the NFL's strict concussion policy in order to be eligible to play.
ADVERTISEMENT
Article continues below this ad
The Chiefs will be hoping that Mahomes is fit to play against the Bills, who have proven to be a dangerous team this season.