NFL Analyst Hails Aaron Rodgers Channeling Championship Mentality in Pursuit of Super Bowl Victory
Published 01/19/2021, 10:59 AM EST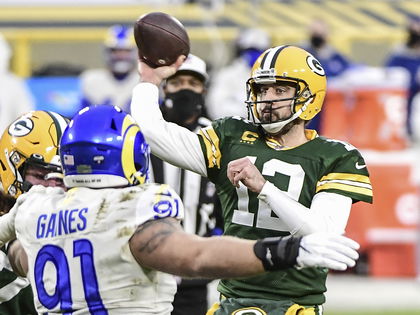 ---
---
Aaron Rodgers just had one of the best games in his career. In the Divisional Round of the NFC Playoffs, Rodgers led the Green Bay Packers to defeat the LA Rams 32-18.
ADVERTISEMENT
Article continues below this ad
Rodgers was absolutely spectacular during the game. It appeared as though Rodgers picked up right where he left off in the regular season where he played at an MVP level.
NFL analyst Michael Vick spoke on First Things First about Rodgers' mentality going into the season. He noted that Rodgers has only won 1 Super Bowl across his career and has tapped into his championship mindset this season.
ADVERTISEMENT
Article continues below this ad
His performances throughout the season have been on another level. He credited Rodgers for being an elite athlete with that mentality.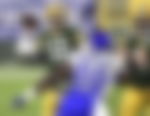 "Aaron Rodgers – you got to understand what he's dealing with. You just drafted a quarterback. You pretty much wasted my career and you got one Super Bowl out of me.
"This may be the last opportunity I have to get it done. So when you have that type of mentality, that championship mentality, you're going to go into every practice, every meeting, every game just next level." 
Aaron Rodgers- Among the elite athletes in the world
Vick further compared Rodgers to elite athletes from many sports. He believes that much like the legends like Tom Brady, Michael Jordan, and Serena Williams, Rodgers has also tapped into the championship mentality going into the Playoffs in the hunt for another Super Bowl title. He believes that the mentality of Rodgers is not spoken about enough.
He added, "The Tom Bradys of the world, the Michael Jordans of the world, the Serena Williams of the world. They just transcend to a whole another level mentally and sometimes just don't talk about it enough.
ADVERTISEMENT
Article continues below this ad
"Meanwhile, it was more about Aaron Rodgers and less about just Xs and Os in football."
Aaron Rodgers has been excellent throughout the season. He is one of the frontrunners in the regular-season MVP race. But there were doubts about how Rodgers would play in the Playoffs. Rodgers quelled all those doubts with his performance against the Rams.
ADVERTISEMENT
Article continues below this ad
Can Aaron Rodgers lead the Packers to the Super Bowl? He has one more challenge in front of him – Tom Brady and the Tampa Bay Buccaneers. It will take a legendary performance from Rodgers to get past one of the greatest to ever throw the ball in Tom Brady.