NFL Analyst Lauds Aaron Rodgers for Using Unique Passing Technique to Work Around LA Rams' Blitz
Published 01/19/2021, 11:20 AM EST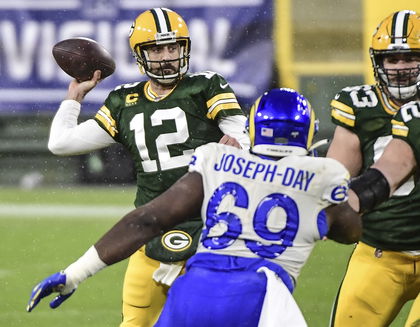 ---
---
On Sunday night, Aaron Rodgers put on a clinical performance against the Los Angeles Rams as he led the Green Bay Packers to a 32-18 victory.
ADVERTISEMENT
Article continues below this ad
Rodgers' passing ability was on full display that night, with the former MVP throwing several excellent passes to his teammates to get his team the win.
NFL analyst Nate Burleson spoke on Good Morning Football about the performance that Rodgers put forth against the Rams.
ADVERTISEMENT
Article continues below this ad
Burleson pointed out that Rodgers could be seen prior to the game practicing his patented curling passes. He wondered whether Rodgers would actually use it during the game and got his answer in spectacular fashion.
"What I love about having a couple of games on a Sunday or Saturday is we get to see a lot of the things we don't typically get to see.
"Before the game, I'm just looking at Aaron Rodgers and he's just whipping the ball. I'm thinking to myself 'when is he going to use that in the game?' He was using it every single quarter. He just spins and he gets it out so quickly." 
Aaron Rodgers puts on a passing masterclass
Burleson added that Rodgers' intelligence was on full display during the game against the Rams. He had the intuition to know what kind of pressure the Rams would be putting on him. And hence, he used that pass to get him out of tough defensive sets the opposition would place in front of him.
ADVERTISEMENT
Article continues below this ad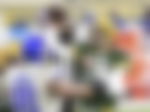 He noted, "And what I appreciate about watching that pregame and then watching it in the game is simply the fact he knew the pressure was going to come, he knew that blitz was going to come.
"So what do I need to do? I need to get the ball of my hand quickly. What Aaron Rodgers did in the pre-game, translated perfectly to how that defense played him. And he did what he does best which was cook."
ADVERTISEMENT
Article continues below this ad
Can Aaron Rodgers put on another passing display against the Tampa Bay Buccaneers? Rodgers faces his biggest challenge in the Playoffs as he inches closer to a clash against Tom Brady. But if he can defeat him, a spot in the Super Bowl awaits.