NFL Analyst Tells League to Suspend End-Zone Touchback Fumble Rule After Cleveland Browns Loss to Kansas City Chiefs
Published 01/18/2021, 1:04 PM EST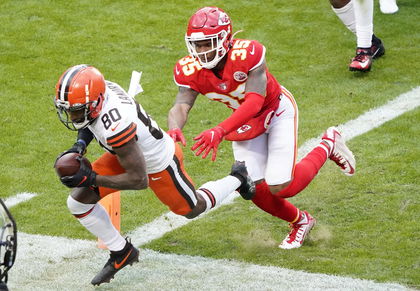 ---
---
The Cleveland Browns lost to the Kansas City Chiefs in the divisional round of the NFL Playoffs. The Chiefs lost Patrick Mahomes early in the game to a potential concussion.
ADVERTISEMENT
Article continues below this ad
However, the true turning point in the game came when the Browns turned over possession in the end zone when they fumbled the ball for a possible touchdown.
There was major outrage over the touchback fumble rule after the game. Many felt that the rule is unwarranted. NFL analyst Dan Orlovsky concurred with the assessment. He declared that the rule was ridiculous and there was an easy alternative for the NFL to implement.
ADVERTISEMENT
Article continues below this ad
He said, "It's a stupid rule, and the NFL needs to change it. I get it, like everyone goes, 'Well, give me an alternative'. Well, here you go – in the NFL, when you fumble the football, to recover there needs to be a clear and obvious recovery. When it goes out of bounds, there is no clear recovery." 
NFL called into action over the rule
He further noted that the ball would be returned to the offensive unit if the ball was lost in the mid-range. However, if the ball was fumbled going forward, a penalty would be appropriate.
"So the ball would naturally go back to the offense if it was in the middle of the field. When you fumble the football forward and it goes out of bounds without a clear and obvious recovery, it goes back to the spot of the fumble.
"Now, if we want to penalize 10 yards when that situation happens, and it's got to go back to the 11-yard line, that's fine." 
ADVERTISEMENT
Article continues below this ad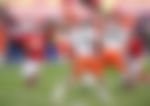 Orlovsky criticized the NFL for continuously penalizing the offensive team going forward, and getting the defensive unit out of trouble whenever there was a fumble made by the offensive unit. He noted that the league needed to amend this rule moving forward so that they won't be subject to criticism.
He stated, "But to sit here and constantly penalize a team for fumbling at the one-yard line… The fact that we have to constantly penalize offenses for being aggressive or playing with effort in that situation is stupid and the NFL needs to rectify this rule to stop rewarding the defense and constantly penalizing the offense."
ADVERTISEMENT
Article continues below this ad
Will the NFL finally change this rule? The league has not found a reason to do it so far, but growing complaints will urge them to finally take action.