Steelers Ben Roethlisberger Matches Tom Brady with Impressive Playoff Record
Published 01/12/2021, 4:52 AM EST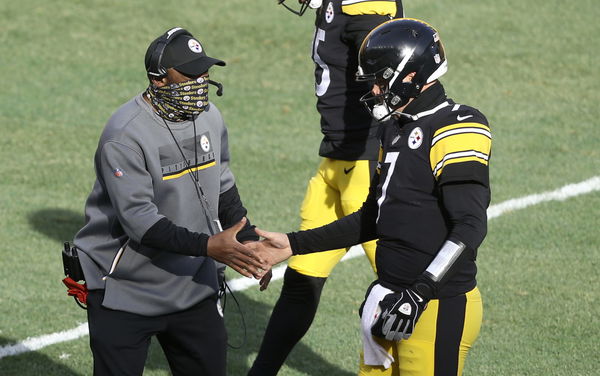 ---
---
Ben Roethlisberger is still one of the best quarterbacks in the NFL. However, their last outing on the field was a tough pill for Big Ben to swallow.
ADVERTISEMENT
Article continues below this ad
The Cleveland Browns upset the Pittsburgh Steelers in incredible fashion to advance in the Playoffs. Roethlisberger tried to rally the Steelers in the second half, but his efforts were not enough to help the Steelers to get the W.
However, Roethlisberger did make history during the game against the Browns. Last night, Roethlisberger matched the legendary Tom Brady as the only quarterback to throw for 500+ yards in an NFL playoff game. Roethlisberger threw for 501 yards during the Steelers' loss to the Browns.
ADVERTISEMENT
Article continues below this ad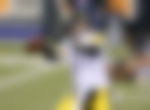 But Roethlisberger's 500+ yards were not exceptional. He ended up forcing 4 interceptions during his passing display. And much like Tom Brady, Roethlisberger's 500+ passing yard performance came off the back of a defeat. Brady achieved the feat during the Patriots' Super Bowl loss to the Philadelphia Eagles.
This isn't the first time Big Ben has thrown for 500+yards this year. During the regular season, Ben Roethlisberger had 4 500+ yard games, most in the league.
These performances came during the Steelers' early regular-season dominance when they went 11-0 in the league before suffering an immense collapse in the final stages of the season.
Ben Roethlisberger joins an elite club
For Roethlisberger, this season has been marred with praise and criticism. The early start of the NFL season was when Roethlisberger was putting on great outings game-in and game out.
He was a huge factor in the Steelers' going 11-0 at the start of the season. However, that was when the wheels started to fall off for the Saints.
As the Steelers went on their losing run, it was Roethlisberger's performances that were criticized. Big Ben's performances were put under the magnifying glass.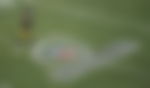 Many have questioned whether he is capable of performing at a high level. Despite the fact, he was able to put up 5oo+ yard passing games multiple times during the season.
ADVERTISEMENT
Article continues below this ad
Now, Roethlisberger's future is a major question mark. Many have suggested that the Steelers begin a rebuild. And if that is the case, they may have to cut their losses with Big Ben and his big contract.
Will the Steelers finally part ways with Ben Roethlisberger? That remains to be seen. But he showed last night he can still play at a high level.
ADVERTISEMENT
Article continues below this ad