Quarterback Coach Reveals How Bills' Josh Allen Can Raise his Ceiling
Published 01/10/2021, 12:33 PM EST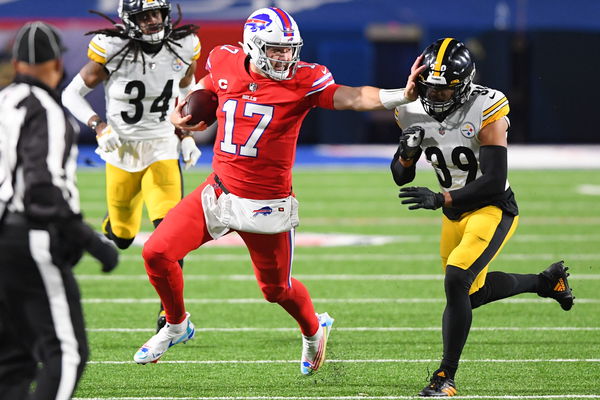 The Buffalo Bills have been a surprise package this season. Owing to the performances of Josh Allen and several other players, the Bills were able to secure the second-best record in the AFC, going 13-3.
The Bills have been playing at a very high level, and now stand as one of the firm favorites to reach the Super Bowl this season.
Quarterback Coach Jordan Palmer spoke to the Buffalo Bills YouTube channel recently. Palmer had worked with Josh Allen and spoke about the quarterback's ceiling. He called Allen one of the best athletes in the NFL, and one of the fastest quarterbacks in the league today.
ADVERTISEMENT
Article continues below this ad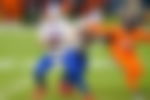 He said, "I don't think there's a ceiling. I think Josh is physically the most gifted athlete we've had play this position in the NFL.
"And I understand that it's a strong statement. I'm not saying that because I am a fan of his or because I work with him…His arm is what it is, strongest in the league. And he also is a runner. He's not just a fast guy that can run out of bounds." 
Josh Allen can improve even further
Palmer further added that Allen's growth is more dependent on his chemistry with his teammates than his own talent. He gave the example of Stefon Diggs. He noted that neither got enough time during pre-season in order to develop chemistry.
"So when you put all those things together, from a talent perspective, that makes that ceiling really high…The biggest area I see for growth isn't actually due to Josh, it's due to timing with his players.
"Let's look at this offseason with Stefon Diggs… They didn't have any time this offseason to work on specific things, to work on specific routes." 
Palmer added, "One of the things when you get a new receiver…You want to throw some balls to him low. You want to throw it to him high, you want to throw it outside.
ADVERTISEMENT
Article continues below this ad
"I'm going to force it between defenders and see if he goes and gets it. You got to try things it to see what a guy can do, and for him to get used to the way you throw it…"
Palmer showed optimism towards the Bills and Allen's next season. He believes that with proper time in the off-season, Allen's chemistry will improve with his teammates, and so will his skillset.
ADVERTISEMENT
Article continues below this ad
"Next year, Josh should be able to try all kinds of stuff because there's no consequence…They haven't had the chance to really develop the chemistry outside of on Sundays, which is the hardest place to develop chemistry."
The Bills just defeated the Indianapolis Colts last night in the Playoffs Wild Card Round. As the Playoffs continue, Buffalo faithful will hold out hope that this team will be able to make a strong playoff run. But their run will only get harder, as they continue to play better teams.