The Baker Mayfield-Patrick Mahomes Saga Endures
Published 01/12/2021, 5:36 AM EST
By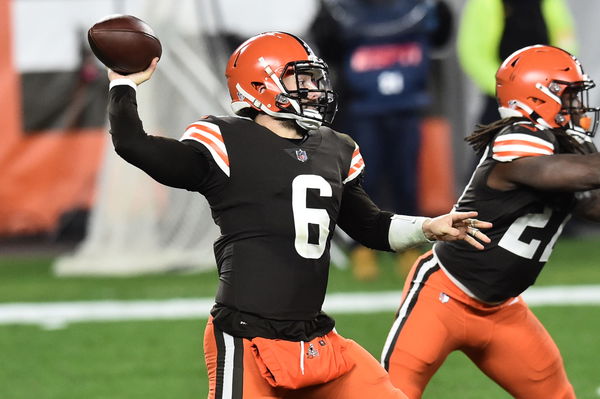 The Cleveland Browns went up against the Pittsburgh Steelers in the AFC Wild Card Playoffs Round. The Browns defeated the Steelers 48-37, winning their first postseason match since 1994. Baker Mayfield, in his playoff debut, threw for 263 yards with 3 touchdowns while Nick Chubb had 145 yards and a score.
ADVERTISEMENT
Article continues below this ad
The Browns put their strong front foot forward, they did not hold back on their offense.  On the other hand, the Steelers were quite sloppy.
Next Sunday the Browns will head to Kansas City to face the #1 seed. They are also the defending Super Bowl champions in the AFC Divisional round. It's Cleveland's first trip to the AFC Championship Game since 1989.
ADVERTISEMENT
Article continues below this ad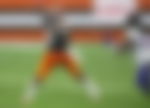 The Legend of Patrick Mahomes and Baker Mayfield
Baker Mayfield and Patrick Mahomes will go head to head against one another after 4 years. These 2 players have a crazy history.
Their story began in 2016, when Oklahoma and Texas Tech met for a match. It was a night they broke many records, and the defense died as well.
It served as the unofficial official coming-out-party for the two Big 12 quarterbacks as the Oklahomas took the 66-59 win over the Texas Tech home.
They transferred Mayfield from Texas Tech to Lubbock. Mahomes was Mayfield's host when he took his recruiting visit to Lubbock. That night these 2 quarterbacks broke many records.
For 545 yards Mayfield was 27-of-37 and an Oklahoma-record 7 touchdowns. For an FBS-record of 734 passing yards and 5 touchdowns through the air, Mahomes was 52-of-88.
Mayfield and Mahomes threw for 1,279 combined passing yards. It became a record for all varsity students today to date.
Mahomes and Mayfield both make their way into the NFL
ADVERTISEMENT
Article continues below this ad
The following year, Mayfield won the Heisman Trophy when he led Oklahoma to the Rose Bowl and the College Football Playoff. He later became the No. 1 pick of the Cleveland Browns in the 2018 NFL Draft.
Mahomes became the No. 10 pick in the 2017 NFL Draft. Mahomes sat behind Alex Smith his rookie year, only starting the regular-season finale, before throwing 50 touchdowns and winning the NFL MVP in 2018 for the Kansas City Chiefs.
On November 4th, 2018, Mahomes and Mayfield went up against one another for the first time as NFL adversaries. The Chiefs beat the Browns 37-21.
ADVERTISEMENT
Article continues below this ad
The Browns will head to Kansas on the 17th of January 2021 for a matchup with Patrick Mahomes. It will be an amazing showdown between Mayfield and Mahomes once again.