Throwback to Colin Kaepernick's 56-yard Touchdown Record Lamar Jackson Came Close to Beating
Published 01/10/2021, 6:37 PM EST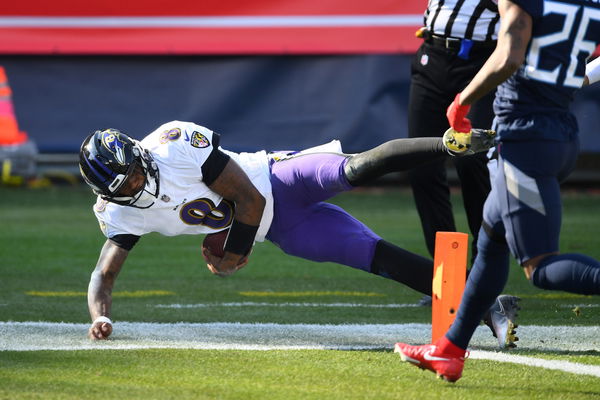 ---
---
John Harbaugh -led Baltimore Ravens made their way to a memorable 13-20 victory over the Tennessee Titans in Sunday's NFL Wild Card Playoff. The visitors came from a 10-0 deficit to eventually win the game by a 7-point margin. Who was the star performer for the Ravens? None other than the reigning NFL MVP, Lamar Jackson.
ADVERTISEMENT
Article continues below this ad
What was his standout play from the win over the Titans? This stunning 49-yards rushing touchdown in the second quarter.
ADVERTISEMENT
Article continues below this ad
In doing so, Lamar Jackson registered the second-longest rushing touchdown in a playoff. Who holds this distinguished record? Former San Francisco 49ers quarterback Colin Kaepernick. Kap terrorized the Green Bay Packers back in the 2012 NFC Divisional Playoff game with a jaw-dropping display of athletic prowess.
Lamar Jackson falls short of 56-yard Colin Kaepernick rushing TD record
Colin Kaepernick spent six seasons with the San Francisco 49ers between 2011-16. The former Nevada State player rushed for 2,300+ yards with 13 rushing TDs during his tenure in the Bay. But his 2012 NFL Playoff performance against the Green Bay Packers stands out from the rest.
ADVERTISEMENT
Article continues below this ad
Kaepernick went 17 of 31, throwing for 263 yards with 2 passing TDs against one interception. However, his 56-yard effort at 2nd and four in the third quarter was the pick of the bunch that night. Kap still holds the record for the longest rushing touchdown in NFL Playoffs history.
Lamar Jackson's effort from Sunday is second on the list at 49 yards. But the reigning NFL champion did enough to silence his doubters, who were questioning whether Jackson is a 'big game' player. RB JK Dobbins also deserves credit for making a game-changing play while Marcus Peters pulled off a stunning interception to seal the deal for the visitors.
ADVERTISEMENT
Article continues below this ad
The Ravens will either play the Kansas City Chiefs or the Buffalo Bills based on the outcome of the Pittsburgh Steelers vs Cleveland Browns Wild Card Playoff scheduled for later today. Watch this space for more.