WATCH: Aaron Rodgers Connects With Allen Lazard for Decisive 58-Yard Touchdown
Published 01/16/2021, 7:29 PM EST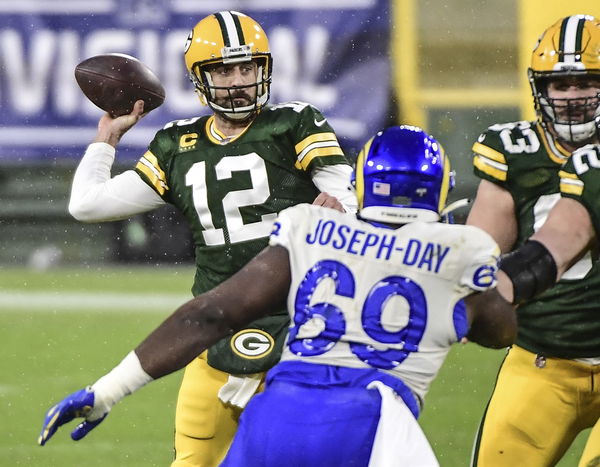 ---
---
Aaron Rodgers has been the standout player for the Green Bay Packers all season. The veteran NFL quarterback arrived in postseason on the back of 4,299 passing yards and an impressive tally of 48 passing TDs against just 5 interceptions.
ADVERTISEMENT
Article continues below this ad
Head Coach Matt LaFleur deserves credit for what he has done with the Packers in the last 2 years. He knew they needed a strong offensive display on Saturday in the Divisional Round Playoff against Sean McVay's Los Angeles Rams. It's safe to say Rodgers and the Packers did not disappoint.
The 37-year-old quarterback connected with WR Davante Adams for the first touchdown of the game. He later put on a show for the crowd at Lambeau Field to score his first rushing touchdown in the NFL Playoffs since 2010. The Packers ended the first half with a 9-point lead, but they were not satisfied with that.
ADVERTISEMENT
Article continues below this ad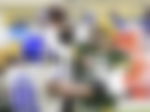 Aaron Rodgers gives the Packers a 14-point lead in Wisconsin
After a slow start in the second half, the Rams reduced the home team's lead by 2 points. One touchdown for the visitors and the tide of the game was bound to change. But A-Rod had different plans.
After a clever read of the Rams defense mid-way through the 4th quarter, the 2-time NFL MVP Aaron Rodgers devised a smart play. He gave the command to WR Allen Lazard, and the Packers went for the 'money shot' at 2nd and 6.
Rodgers slyly faked a pass to RB Aaron Jones, which caught the Rams defense off guard. In doing so, he got himself out of the pocket. He had enough time to spot Lazard's run toward the End Zone and launched a thunderous throw forward.
ADVERTISEMENT
Article continues below this ad
Allen Lazard had missed a potential touchdown pass earlier in the game, but he wasn't going to make the same mistake twice. The promising youngster held onto the ball and ran all the way into the End Zone for Rodgers' second passing touchdown of the game. After the 1-point conversion, the Packers increased their lead to 14.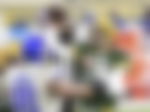 That's how the game ended as the Packers sealed a spot in this year's NFC Championship game. They will host the winner of tomorrow's Divisional Round Playoff between New Orleans Saints and Tampa Bay Buccaneers.
ADVERTISEMENT
Article continues below this ad