WATCH: Tampa Bay Buccaneers' Leonard Fournette powers his way into the endzone to take the lead in NFC Championship Game
Published 01/24/2021, 4:04 PM EST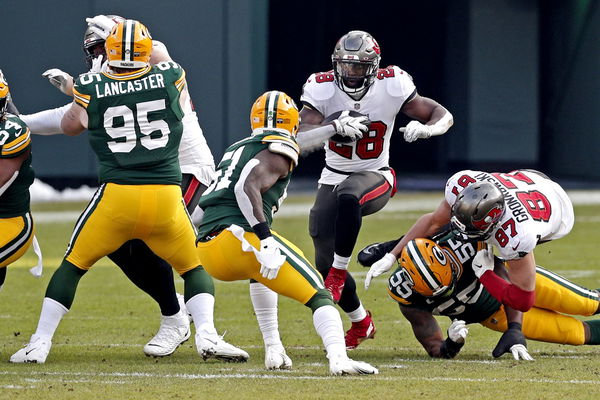 ---
---
The Tampa Bay Buccaneers are bringing the heat to the cold and windy Lambeau Field. Scoring on the opening drive of the game, the Buccaneers have now taken the lead once again.
ADVERTISEMENT
Article continues below this ad
The Packers have gotten off to a rocky start. With QB Aaron Rodgers already being sacked twice in the first half, the Buccaneers offense is clearly having the better game so far.
Tampa Bay Buccaneers running riot over Packers defense
ADVERTISEMENT
Article continues below this ad
With the game level, the Buccaneers needed something special to regain the lead, and Leonard Fournette provided his team just that. The running back dodged, swiveled, and powered his way into the Green Bay Packers end zone to put Tampa Bay up 14-7.
Leonard Fournette's 32-yard-touchdown puts the pressure back on the Green Bay Packers. The current NFC Championship Game is the Buccaneers first in over 18 years. For the Packers, though, it's their second consecutive appearance in the NFC title tie.
Tom Brady and the Bucs offense have been efficient at making the most out of the opportunities presented to them so far. Green Bay's defense sure has its work cut out for them for the rest of the game.
The previous play to set up the Bucs at the Packers 32, was also one to marvel. At 3rd and 9, the Buccaneers need a big play- Tom Brady with the pocket collapsing opted to throw down the middle for WR Chris Godwin.
Under pressure, Godwin made a phenomenal catch after juggling the ball to get the Bucs a much needed first down. His catch, good for 52 yards, placed the Buccaneers in a great field position to run the ball and regain the lead.
Packers needs Aaron Rodgers to step up
Aaron Rodgers has been struggling so far. The quarterback has already been sacked 3 times in the first half of the game and has thrown an interception.
Those are worrying signs for the Packers, given how efficient the quarterback has been at being error free. The pick was Rodgers' 6th for the season and heading into halftime, the Packers trailed the Buccaneers 21-10.
ADVERTISEMENT
Article continues below this ad
The Packers have been dreadful recently in conference championship games. They've lost all 3 of their last attempts, with their most recent defeat coming at the hands of the San Francisco 49ers in 2020.
The QB has had a season worthy of being named the MVP. Now, Rodgers needs to channel some of that same energy to get his team back into the crucial NFC Championship Game.
ADVERTISEMENT
Article continues below this ad