Defense Rules for Tampa Bay Buccaneers Over Drew Brees & His Saints
Published 01/18/2021, 7:10 AM EST
---
---
It was the defense for the Tampa Bay Buccaneers, which called the shots at the Superdome on Sunday against the New Orleans Saints. The victory means the Buccaneers now roll into the NFC title game, where they'll meet Aaron Rodgers and his Green Bay Packers.
ADVERTISEMENT
Article continues below this ad
The 30-20 win started with an insipid first quarter for the Buccaneers. After conceding a touchdown, and failing to score points in the first quarter of the tie, the Buccaneers had a lot to figure out.
But from there on, the defense took over the clash of the NFC South teams.
ADVERTISEMENT
Article continues below this ad
Tampa Bay Buccaneers pick off Drew Brees 3 times
Tampa Bay head coach Bruce Arians will be more than delighted with how his defense stood up against the Saints. Roaring back into the tie with an interception in the second quarter, Tampa found the spark it needed.
Though the Bucs were already on the board with a field kick by that point, this was their first big play. Carrying the pick all the way to the Saints' 3-yard-line, Tom Brady's offense was lined up perfectly to take over. And so they did, with their first touchdown drive of the game.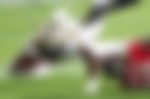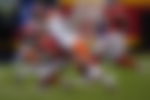 In the entire second half, the Buccaneers just conceded one touchdown courtesy of Saints WR Tre'Quan Smith. Furthermore, in this half, the Buccaneers defense also took out the Saints with 2 more interceptions. The team also recorded a crucial turnover when linebacker Devin White recovered a fumbled ball, which Brady's offense then converted to tie the game.
Drew Brees ended the night with 3 interceptions and the Saints with 4 turnovers overall. The Buccaneers defense shut out arguably the most well-rounded offense in the league.
More of the same from Tampa defense needed against the Packers
Tom Brady and the Buccaneers need just 2 more wins to seal a sensational Super Bowl win. But first, the franchise, which won its only Super Bowl back in 2003, must overcome the Green Bay Packers.
Led by Aaron Rodgers, the Packers are a solid shout for the NFC title. With an offense which even the league's best defensive unit belonging to the LA Rams couldn't stop, the Buccaneers defense will need more of the same as showcased in the game against the Saints.
ADVERTISEMENT
Article continues below this ad An NFC title game showdown promises to be the battle of 2 legendary quarterbacks. Aaron Rodgers vs Tom Brady. With Rodgers on the roll with an MVP worthy 2020 NFL season, he'll have to go up against a man chasing his 7th Super Bowl ring.
Despite the offense featuring the likes of Brady and Brown, the onus might still fall upon the Buccaneers defense to guide them to their 2nd NFC title. If the Saints' game is anything to go by, the defense looks ready for the challenge that lies ahead.
ADVERTISEMENT
Article continues below this ad