When Can Patrick Mahomes Realistically Break Tom Brady's Records?
Published 01/28/2021, 5:44 PM EST ---
---
Tom Brady is the undisputed GOAT of the NFL. With stats unrivaled by most franchises in the league, let alone players, the quarterback is in a league of his own.
ADVERTISEMENT
Article continues below this ad
Some of his stats are so ridiculous that they might never end up being broken. But there is one man who seems to be a threat to Brady's supremacy.
Kansas City Chiefs' quarterback Patrick Mahomes has been a dominant force ever since getting his first start in the league. Blessed with a rocket arm and super human athleticism, Mahomes if blessed with the best of both worlds.
ADVERTISEMENT
Article continues below this ad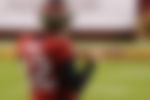 Into his third season as a starter for the Kansas City Chiefs, the quarterback is already set to play in his second Super Bowl. With the Chiefs pegged as favorites in the tie versus the Tampa Bay Buccaneers, Mahomes could may as well make it two Super Bowls in four years, come February 7.
But with still a long way to go to before he usurps Tom Brady's six Super Bowl rings (which could potentially be seven come next week) many believe the Chiefs QB has the best shot of replicating if not better Brady's legacy.
But just how long might it take Patrick Mahomes to break Brady's other records?
Still a long way to go for Patrick Mahomes
The Buccaneers QB is the holder of over 5o records in the NFL. Starting from the regular season to the playoffs. Brady's array of records are mind-boggling.
And to surpass those, even with the trajectory that Mahomes is on, it would take him approximately 15+ years to replicate.
Take into consideration Tom Brady's regular season win record. Even while averaging 12.7 wins a year, Mahomes could break Brady's record in his 20th season in the league, when the year should be 2036.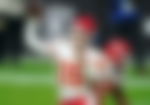 When it comes to eclipsing Brady's playoff win record as well, Mahomes, averaging 2 wins a season will only be able to break the record in 2034- more than a decade from now.
ADVERTISEMENT
Article continues below this ad
And in Super Bowl wins, Mahomes averaging 0.33 so far will have to wait till 2035 to surpass the legendary QB. All this taking into consideration that the Kansas City Chiefs continue their immaculate form in the NFL for years, and Mahomes not missing out any game in between through injury or suspension.
These numbers reflect just how dominant Tom Brady has in the league. And how breaking his records will be no piece of cake for Patrick Mahomes.
ADVERTISEMENT
Article continues below this ad