NFL Star Challenges Ninja and FaZe Clan in Call Of Duty Warzone
Published 04/25/2020, 10:56 AM EDT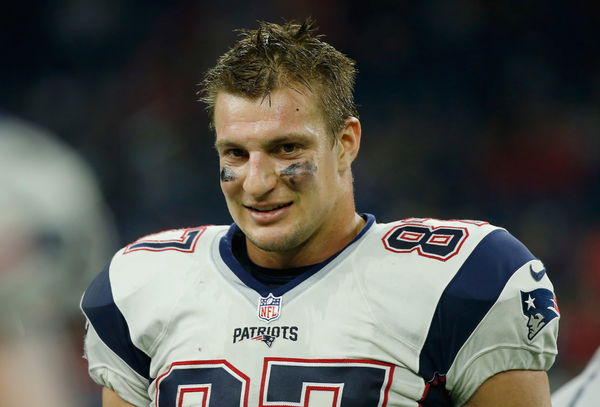 Recently many famous personalities across the music industry, sports industry, and gaming industry have stepped forward by partaking in various charities in the fight against the coronavirus pandemic. Rob Gronkowski, currently a tight end for the Tampa Bay Buccaneers, has now come forward to make his contributions to the cause. He challenged Tyler 'Ninja' Blevins and FaZe Clan for a charity Call Of Duty Warzone tournament.
ADVERTISEMENT
Article continues below this ad
Rob Gronkowski Challenges Ninja and FaZe Clan In Call Of Duty Warzone
The three-time Super Bowl champion will be participating in a charity event called COV-AID. It is a live-streaming gaming, esports, and music charity event that will be hosted on May 5, Tuesday.
ADVERTISEMENT
Article continues below this ad
Gronkowski posted a video on his Twitter to challenge Ninja, one of the biggest gaming content creators in the world, to a charity Warzone tournament for the COV-AID event. He also challenged the FaZe Clan, one of the most prominent gaming organizations, for the Warzone charity tournament. In the footage, the NFL star said, "I'm coming for everyone in Call of Duty Warzone."
Ninja later retweeted the video and said, "I'll be there."
Rapper and record producer Lil Jon, who will also participate in the interactive charity event, challenged the NFL star to a game of Madden in a video he posted on Twitter. As a result, Gronk will also be playing Madden apart from Warzone.
The amount raised through the COV-AID charity event will be donated to non-profit organizations like Americares and the Boys & Girls Clubs. Therefore, the proceedings will massively benefit the organizations in their fight against COVID-19. Both organizations are putting in incredible effort for a noble cause to help COVID-19 first responders and their families.
ADVERTISEMENT
Article continues below this ad
The COV-AID charity event can be watched live on May 5 on all platforms like Twitch, Facebook, YouTube, Twitter, and Mixer.
The Celebs Are Contributing To A Noble Cause
The COV-AID charity event is just one in a string of coronavirus-related acts of charity. Most recently, CouRage raised a massive amount of $500,000 on his birthday stream to donate to charity. Meanwhile, companies like Nintendo and Razer have either vouched to donate or even produce protective masks to give to COVID-19 volunteers.
ADVERTISEMENT
Article continues below this ad
Ninja has already donated generous amounts to charities like Feeding America. Marshmello joined FaZe Clan for a live stream of Warzone, which raised nearly $50,000 for COVID-19 charity in March. Apart from that, FaZe Clan has also hosted tournaments for charity.
Such acts are certainly heartwarming in this uncertain and worrying time. Moreover, it delivers a positive message, especially to the families that have suffered losses due to COVID-19.