Buccaneers' Devin White Denies Narrative that Travis Kelce and Tyreek Hill had a Good Game in the Super Bowl
Published 02/17/2021, 9:03 AM EST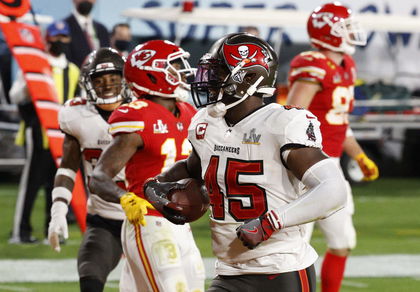 ---
---
The Tampa Bay Buccaneers are still on cloud nine. Last weekend, the Buccaneers defeated the Kansas City Chiefs at Raymond James Stadium to win the Super Bowl.
ADVERTISEMENT
Article continues below this ad
It was a dominant victory for the Buccaneers, who shut down the Kansas City Chiefs, not letting them make a single touchdown through the entire game. And Devin White explains how dominant they were.
Buccaneers' Devin White spoke on Undisputed yesterday. He agreed with Skip Bayless that the Buccaneers absolutely squeezed the Chiefs during the game. And the spectators did not catch how well the Buccaneers' defense held their ground against the Chiefs.
ADVERTISEMENT
Article continues below this ad
The only reason their numbers appeared to be good was that they started making strides only after the game was already won.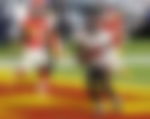 "I agree 100%," White said. "And a lot of people don't even realize what we did as far as holding them at nine points, not letting them in the end zone. But they started gaining yards when we was already up 21 points.
"We had already gave our little brothers the controllers man, said, 'Y'all can go finish them off '. They just started giving them little BS yards."
Devin White wants credit for stopping Kelce and Hill
White added that the praise for Travis Kelce and Tyreek Hill is unfounded. While their numbers appeared impressive, most of their yards only came at the end of the game.
He doesn't believe that the duo deserves the kind of credit that they are getting. Rather, that credit should be going to the team.
"I know everybody praising – 'Oh, Travis Kelce had 133'. But all of that came at the end of the game when it was already over. We were sitting back in the zone playing soft.
ADVERTISEMENT
Article continues below this ad
"Same as Tyreek Hill, man…coach Bowles told us to sit back 15 yards at the stick and he caught it and ran. But at the end of the day, we know what went on, it was a lot of toe tagging out there."
Will the Kansas City Chiefs bounce back next season? It will take a lot for them to build their confidence back. However, they have one of the most talented teams in the NFL.
And if Patrick Mahomes can continue to play at the same level that he has for the past few seasons, they will be back in Super Bowl contention next year.
ADVERTISEMENT
Article continues below this ad