Buccaneers LeSean McCoy Explains What He Learnt from Tom Brady
Published 02/20/2021, 5:30 AM EST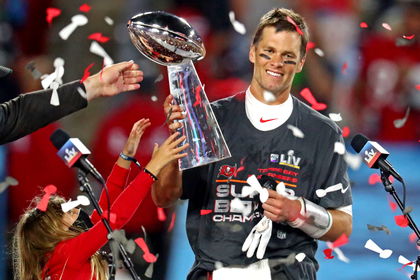 ---
---
Tom Brady will go down in history as the greatest player of all time. Brady won his 7th Super Bowl ring against the Kansas City Chiefs. He now has more Super Bowl wins in his own career than any other franchise in NFL history.
ADVERTISEMENT
Article continues below this ad
It was a historic night for Brady, who proved that he could be successful without Bill Belichick and the New England Patriots.
Buccaneers' LeSean McCoy spoke to Pat McAfee recently, where he was asked about his experience with Tom Brady. McCoy revealed that Brady is the only player he ever encountered that has a special kind of work ethic. He revealed that Brady's focus was always unwavering, and he was always working on trying to get his team an advantage.
ADVERTISEMENT
Article continues below this ad
"It's like that. He's the only player that I've been around that when he speaks, I believe it. He could tell me, 'Go up in that water, you won't drown'.
"He has that type of thing about him. The way he works, I wish that when I was younger, I worked as hard as he does. We just won a Super Bowl and he's back training, doing the little things; the way he works." Tom Brady still driven to win
McCoy added that Brady only ramps up his focus and hard work as he gets closer to bigger games. He revealed that during the march to the Super Bowl, he constantly communicated with his teammates.
He broke down opposition matchups and shared the weaknesses of each player. McCoy was amazed at how Brady was so driven to win, despite everything he had accomplished.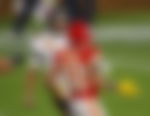 "I watched how as we got closer to the game, we had about 10 players in a group chat… He's going into details about every player we're going up against and he's like a voice-over.
ADVERTISEMENT
Article continues below this ad
"The video is playing, it's only him. He got the candles lit, he's like, 'This is DB, he likes to hold, doesn't have good speed'. With everybody. And I'm like, this guy is so dialed in? He's 43 and so dialed in."
Will Tom Brady win another Super Bowl ring? The Tampa Bay Buccaneers will enter the new season as favorites to win it all next season. But they will have a challenging road ahead; with many teams looking to bounce back, Tom Brady will have to dig deep in a bid to run it back.
ADVERTISEMENT
Article continues below this ad