Former Super Bowl Winner Shannon Sharpe says Russell Wilson is Right to be Frustrated with Seattle Seahawks
Published 02/11/2021, 11:44 AM EST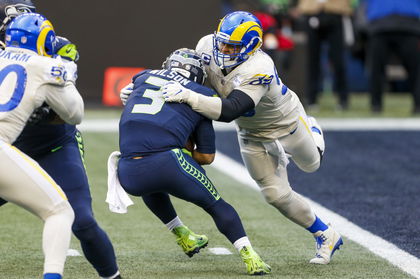 ---
---
Russell Wilson is one of the best quarterbacks in the NFL. The former Super Bowl winner has struggled in the playoffs the last few years but has consistently shown his quality each season. Wilson has been one of the few highlights for the Seahawks over the past few seasons, but it appears as though frustration is finally seeping through for him.
ADVERTISEMENT
Article continues below this ad
Former Super Bowl winner Shannon Sharpe gave his thoughts on Wilson's recent comments about the Seahawks offensive line. He believes that Wilson is absolutely justified in making the comments that he did. He noted that Wilson is someone who doesn't air his frustration often, but when it reaches a boiling point, he lets it out.
ADVERTISEMENT
Article continues below this ad
"It seems to that the frustration had been there for a while and it bubbled up. Russ has what we call an implosive personality. He'll hold everything in. And when it blows, it blows. What you saw yesterday was his frustration spilling out. He's unhappy that for the longest time, this has been a team coached by the defensive-minded guy – the emphasis has been defensive." 
Sharpe added that despite the Seahawks making some moves to bolster the offensive line, they have neglected the unit quite a bit. He compared Wilson's situation to that of Patrick Mahomes in the Super Bowl. The kind of defensive pressure Mahomes endured is what Wilson goes through on a weekly basis.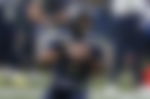 "Although they've gotten some receivers now, they've neglected the most important thing to the quarterback which is the offensive line. He saw Patrick Mahomes go through the Super Bowl, he said 'hell, I go through that every week'. He's been sacked 394 times, almost 400. Tom Brady in 21 seasons has been sacked 500 times." 
Russell Wilson is unhappy with the team balance
For Shannon Sharpe, he understands that Wilson's disappointment stems from his own ambition. Wilson wants to play late into his career, much like Tom Brady and Peyton Manning. But given the physicality he deals with on a regular basis, that will become a challenge.
"Russell wants to play long into his late 30s, early 40s like Tom. He ain't going to make it like that! The reason you see Peyton Manning play 18 years, Tom Brady play 21 years, Drew Brees play all these years is because they didn't take that kind of pounding. You're not taking that kind of pounding and playing into your 40s. That's not going to happen." 
Shannon Sharpe noted that Wilson's comments will have a serious impact on the Seahawks front office. Unlike most other players, Wilson is a quarterback and an elite one at that. His position and quality allow him to garner more leverage than any players. And no team would risk alienating their star player, despite the quality they have at other positions.
ADVERTISEMENT
Article continues below this ad
He said, "The difference between when a quarterback speaks in the NFL, compared to any other player, is that they have the leverage. Especially guys like Russ, when Russ talks, they listen…The organization has no choice but to listen. You could have three of the best offensive players…But if one of them ain't 'that guy', you can kiss it all goodbye."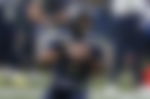 ADVERTISEMENT
Article continues below this ad
Will the Seattle Seahawks acquiesce to Wilson's frustration. Players like Wilson don't come about very often in the NFL. And it would be in the Seahawks' best interest to listen to him and address the positional challenges that he is pointing out. If not, they risk him potentially leaving the franchise in the near future.