NFL Legend Eli Manning Praises Tom Brady for Super Bowl Performance
Published 02/07/2021, 10:15 PM EST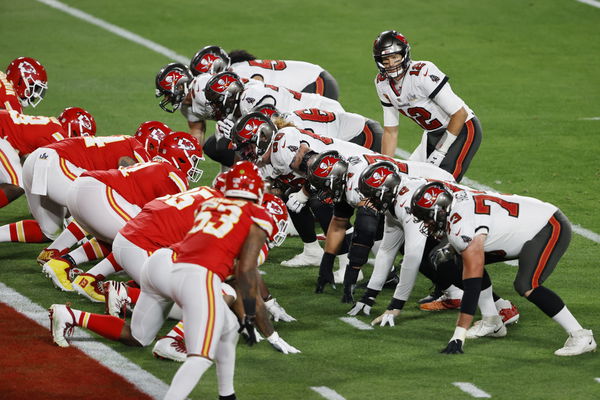 ---
---
Tom Brady is putting on a clinic in the Super Bowl right now. He has been the driving force for the Tampa Bay Buccaneers as they are trouncing the Kansas City Chiefs. After three quarters, the Buccaneers hold a 31-9 lead over the Chiefs. Brady has thrown for three touchdowns so far, and is a decent shout for the Super Bowl MVP.
ADVERTISEMENT
Article continues below this ad
Former Super Bowl winner Eli Manning was on the Super Bowl Watch-Along. When asked about how Tom Brady had been performing, Manning was very praiseful of what he's doing. He was shocked by Brady, not just because of how well he's playing, but given his age and change in the franchise. He gave Brady major props for his work on the field.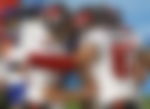 " It's unbelievable, it really is. It's hard to describe how impressive it is that not only is he doing it at 43, and 10 times getting to the Super Bowl. But just that he changes his team, he changes organization, completely new system, in a pandemic and a short off-season. And still gets the same result." 
ADVERTISEMENT
Article continues below this ad
Tom Brady still focused on winning
Manning noted that Brady being able to reach the Super Bowl with such regularity, late in his career has never been done before. he believes that he has some trait that allows him to improve the team around him. His innate desire and belief to be successful is contagious for the rest of the team, according to Manning.
"Making it to the Super Bowl and has the lead going into the second half so. He obviously has some characteristic or some trait that gets the best out of the people around him. People believe that when he's on the field that he's going to get the Super Bowl. And that's contagious and impressive." 
ADVERTISEMENT
Article continues below this ad
Manning also noted how fiery a competitor Brady is. The two clashed in two Super Bowls, where Manning got the better of him twice. to this day, Brady is still bothered by his two Super Bowl losses. Despite winning six (now on the verge of his seventh) Super Bowls, Brady still harps on the ones he missed out on.
"I've been around Tom a bunch and I've never brought up either Super Bowl to him. There's no bragging rights against Tom Brady because he has six rings. He does bring up that '07 Super Bowl a few times, and it hurts him. That really bothers him. And he brings it up, I shy away."
ADVERTISEMENT
Article continues below this ad
Will anyone ever match Tom Brady with rings? The legendary quarterback now has seven rings, the most of anyone in history. His performance in the Super Bowl has solidified him as the greatest quarterback of all-time.