'Buccaneers Beat the Hell Out of Those Guys' – NFL Analyst Talks About What Went Wrong for the Kansas City Chiefs in Super Bowl LV
Published 02/08/2021, 12:24 PM EST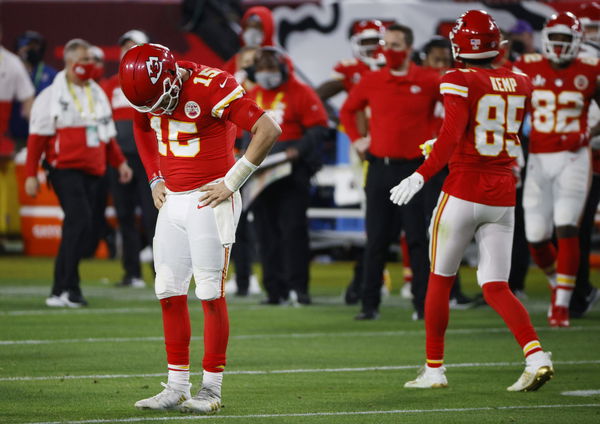 ---
---
The Kansas City Chiefs' lopsided 31-9 defeat to the Tampa Bay Buccaneers in Super Bowl LV is not something anyone saw coming. Falling behind early in the game, the Chiefs failed to threaten the Buccaneers defense and ended the night with 0 touchdowns.
ADVERTISEMENT
Article continues below this ad
Not something anyone would associate with the Chiefs led by quarterback Patrick Mahomes. The defeat was the heaviest in Mahomes' NFL career.
But what went wrong for the Chiefs? How did they fail so miserably on the grandest stage of them all? One NFL analyst believes he has the answers.
ADVERTISEMENT
Article continues below this ad
Kansas City Chiefs O-Line had a night to forget
For the Chiefs, nothing went according to the script. A night that many believed would be the passing of the torch from Tom Brady to Patrick Mahomes ended up seeing Brady only further solidifying his legacy as the greatest to play the sport.
During a segment of GMFB, former NFL player and analyst Michael Robinson talked about how Mahomes was let down by his O-line.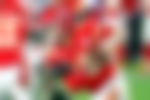 "They (Chiefs) have been a brilliant team… I feel like a broken record saying this but you can't do anything in this league without an offensive line," said Robinson.
"Especially if you're going to drop back 49 times, and throw the football. You better make sure your tackles are good, you better make sure that you are protecting the guy throwing the football. And quite frankly, the Tampa Bay Buccaneers beat the hell out of those guys," he added.
Mahomes magic not enough
ADVERTISEMENT
Article continues below this ad
While the Chiefs struggled with penalties as well, Robinson pointed out how Mahomes' talent helped them mask their deficiencies. But on the night that it mattered the most, even Mahomes' magic was not enough to get the Chiefs past the finish line.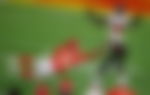 "They had some penalties during the course of the season, but oftentimes Patrick Mahomes was able to overcome it with his arm talent. That just didn't happen in this game. I just think that they had a very bad night, and they went up against a much more physical team," said Robinson.
ADVERTISEMENT
Article continues below this ad
With the 2020 season now behind them, the Kansas City Chiefs have a lot of soul searching to do. Whether head coach Andy Reid brings in reinforcements in free agency or the NFL draft, only time will tell. But one thing is for certain, if their quarterback keeps getting hit, another shot at the Super Bowl might not come as soon as many expected it to be.
ASLO READ –  LeBron James Initiates GOAT Conversation as He Celebrates 'Washed GOAT' Tom Brady's Super Bowl Ring