WATCH: How Different Are the Training Styles of Super Bowl QBs Patrick Mahomes & Tom Brady?
Published 02/28/2021, 12:56 PM EST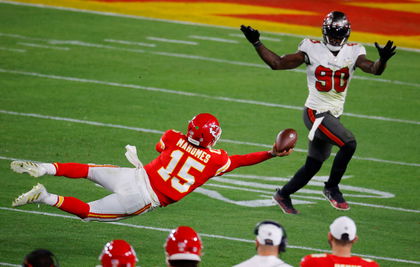 ---
---
The 2020 NFL season is done and dusted. Tom Brady and his Tampa Bay Buccaneers emerged as the champions by winning Super Bowl LV against the Kansas City Chiefs. Patrick Mahomes tried and tried, but in the end, his efforts were not enough to mount a comeback in the tie against the Buccaneers.
ADVERTISEMENT
Article continues below this ad
Regardless of the result, the display from both quarterbacks grabbed eyeballs. While it was Tom Brady's longevity at the age of 43 on display, Patrick Mahomes' athletic prowess was there for all to see.
But what makes both these quarterbacks so unique in their fields? Their training regime might hold some of the answers.
ADVERTISEMENT
Article continues below this ad
Tom Brady focusses on increasing longevity
Tom Brady has been in the league for over two decades now, and his endurance to carry on at the highest level of the sport is something to marvel at. This is definitely something Brady focuses on while working out.
Brady warms up using a white hand towel to replicate the motion of throwing a football. Opting not to warm up with a football, Brady focuses on getting the right flicking motion needed to make the big plays.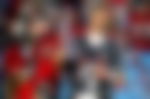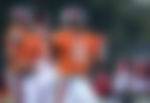 Tom Brady's exercises also rely heavily on dynamic deep force massages and foam roller work to keep his muscles strong and durable.
Brady's go-to exercise equipment is undeniably the resistance band. Almost all his exercises incorporate this piece of equipment to keep him in shape.
Explosiveness key for Patrick Mahomes
Patrick Mahomes relies on a more explosive toolset when playing football. Thus, his workout requires him to focus on different aspects to accomplish this feat.
Mahomes, unlike Brady, warms up with the football. He performs something known as the 'Chunk drill' which sees him take long steps and swivel his spine to maximize body movement.
ADVERTISEMENT
Article continues below this ad
This is something key to almost all of Mahomes' exercises. The goal is to maximize spinal cord movement and further strengthen it to allow him to make those crazy throws he attempts from the most outrageous angles.
To achieve this, he lifts explosively for low reps and incorporates a lot of running drills. Patrick Mahomes also does a lot of work, which incorporates him using resistance work and med ball drills.
The two athletes have very contrasting playing styles. The same can be said for their workout drills as well. So what do you think? Which training style would better suit you? Brady's endurance-based resistance drills or Mahomes' explosive ones?
ADVERTISEMENT
Article continues below this ad