WATCH: Buccaneers Left in Awe Over 'Magician' Patrick Mahomes in Super Bowl LV
Published 02/10/2021, 6:16 AM EST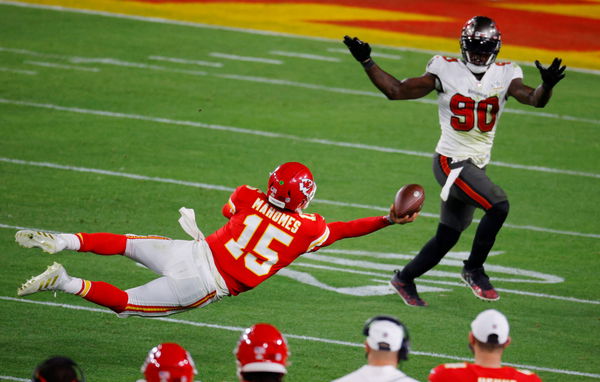 ---
---
Super Bowl LV is done and dusted. The mighty Kansas City Chiefs led by Patrick Mahomes succumbed to Tom Brady and his Buccaneers in a lopsided 31-9 defeat.
ADVERTISEMENT
Article continues below this ad
But many feel that the scoreline does not do justice to the performance put up by the Kansas City Chiefs quarterback. Mahomes was sacked, intercepted, and battered by a Buccaneers defense. But the quarterback still managed to pull off some jaw dropping throws which left even his rivals in awe.
Patrick Mahomes magic there for everyone to see
ADVERTISEMENT
Article continues below this ad
Mahomes was sacked a three times in the game versus the Buccaneers. And of the 56 times he dropped back to make a play, he was pressured 29 times. The most number of times any quarterback has been pressured in Super Bowl history.
But even that was not enough to deter Mahomes. The quarterback scrambled nearly 500 yards on the night before throwing the ball or being sacked.
And even with all that pressure, Mahomes managed to throw some absolute dimes.
Unfortunately for him, his teammates seemed to have butter fingers when they took to Raymond James Stadium. But the Tampa Bay Buccaneers respected the hustle shown by Mahomes till the very last whistle was blown.
"How did he… he's a magician. I'm convinced. Number 15. The one that just be spinning out of nowhere. Just throwing the ball backwards with his left hand," said Buccaneers wide receiver Chris Godwin.
And it wasn't just Godwin that Mahomes managed to impress from the Bucs roster. During a chat on the bench, Godwin and Scott Miller were overheard having this conversation about the Kansas City Chiefs quarterback who had just made a crazy throw while vertical to the ground.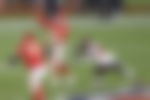 "How did he do that? He's a magician. I don't know how he does that" said Godwin.
ADVERTISEMENT
Article continues below this ad
"He was back for like 18 seconds! (How) does that guy have so much time," replied Miller.
Regardless of the loss, Mahomes walked off the field with his chin up. The defeat might have been the worst of his NFL career, but he did what he does best and showed the world just why he's considered one of the best in the sport.
ADVERTISEMENT
Article continues below this ad