NFL Analyst Weighs in on Whether Tom Brady Should Apologize for Lombardi Trophy Toss
Published 02/16/2021, 1:41 PM EST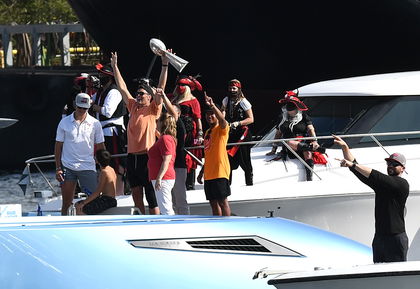 ---
---
The NFL has a new champion, and they go by the name of the Tampa Bay Buccaneers. Tom Brady and his Buccaneers won Super Bowl LV in some style, steamrolling to a 31-9 victory over favorites, Kansas City Chiefs.
ADVERTISEMENT
Article continues below this ad
Following the win, the side was seen celebrating their victory during a boat parade in Tampa, Florida. And while every Buccaneer was hyped about the win, few were as hyped as Tom Brady.
The quarterback made history by becoming the first NFL player in history to win 7 Super Bowls. A feat that saw him cross the New England Patriots and Pittsburgh Steelers in terms of Super Bowl wins.
ADVERTISEMENT
Article continues below this ad
Thus understandably so, Tom Brady was in the mood to have some fun. At the boat parade, Brady was seen tossing the Lombardi Trophy from one boat to another to teammate Cameron Brate.
The throw was completed and the Lombardi Trophy was safe and sound. But some were not so impressed with Brady's show.
Tom Brady has no reason to apologize
According to sources, Lorraine Grohs, daughter of Greg Grohs, the master silversmith who crafted the first Lombardi Trophy, said that she was not impressed by Brady's behavior. And instead of lauding the QB for his historic feat, demanded an apology from him.
NFL analyst Marcus Spears reacted to the development during a segment of NFL Live and said that there was absolutely no reason for Brady to apologize for his actions.
"Listen, I don't want to offend all of the silversmiths out there. They do great work. It is a beautiful trophy. But in case you didn't know, Tom Brady has like 6 of these things. Now 7 and that was the 7th one he decided to toss," said Spears.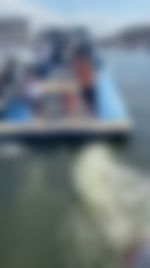 "When all of the nasty hands, kisses and all of that stuff on the Lombardi Trophy after somebody win it don't offend you. Please don't let this bother you, because that's nasty."
ADVERTISEMENT
Article continues below this ad
In a tongue-in-cheek comment, Spears said that there was never any doubt whether the catch would be made given that it was Tom Brady making the throw.
"This is something we knew was gonna happen, and it was going to be completed. Because Tom Brady threw it. So don't be so mad. Enjoy the fact that your trophy is prestigious, and Tom Brady threw it for another touchdown over water.
"Tom Brady, first quarterback in NFL history to throw a touchdown on water. Add that to his resume," added Spears.
ADVERTISEMENT
Article continues below this ad