A Potential New England Patriots & Jimmy Garoppolo Reunion Still on the Cards
Published 03/07/2021, 1:33 PM EST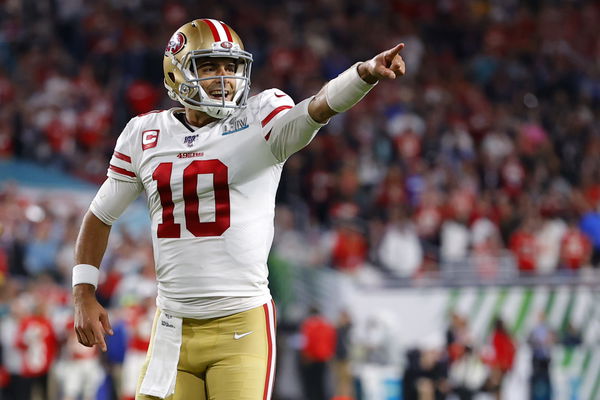 ---
---
For the New England Patriots, a lot of their problems from 2020 remain. And none are more glaring than the one involving their starting quarterback.
ADVERTISEMENT
Article continues below this ad
The Patriots, led by head coach and GM Bill Belichick, struggled without quarterback Tom Brady, who eventually joined with the Tampa Bay Buccaneers. What left an even more bitter taste in the mouth of the franchise is the fact that Tom Brady led his new team to a Super Bowl.
Belichick tried his hand with Cam Newton for the 2020 season, but we all know how that went. After a promising start, Newton and the Patriots kept losing rather uncharacteristically.
ADVERTISEMENT
Article continues below this ad
So what now for the Patriots? With a new season approaching, Belichick surely can't avoid addressing the issue regarding his starting quarterback. And thankfully for the Patriots, seemingly the answer to their problems, is plying his trade in the West Coast.
New England Patriots zero in on Jimmy G
The San Francisco 49ers have maintained that Jimmy Garoppolo will be their quarterback for the 2021 season. But Garoppolo is apparently drawing serious interest from his former employers.
According to The Boston Sports Journal's Greg Bedard, The Patriots wish to bring back Garoppolo to New England.
"From what I gather from talking to people this week, over the past week, Jimmy Garoppolo still is far and away their Plan A," Bedard said on his podcast.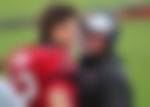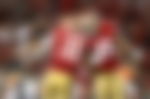 "That, if they had to draw it up, exactly the optimal situation for the Patriots for this coming season. It's Jimmy G coming back here. And of course, that's all dependent on the 49ers doing something," he added.
With Garoppolo showing in 2019 that he has what it takes to carry a franchise to a Super Bowl, the idea to bring him back might not be a bad one.
Can Jimmy Garoppolo salvage a sinking ship?
Belichick and Jimmy G have worked in the past. The quarterback was drafted by the Patriots back in the second round of the 2014 NFL Draft. And interestingly, many saw Garoppolo as the man to replace Tom Brady in the first place.
While with the Patriots, Garoppolo mainly took on a relief role as Brady continued to stake his claim for the starting spot. But with Garoppolo, the Patriots had some success.
ADVERTISEMENT
Article continues below this ad
In fact, in the only two games he ever played as a starter for the Patriots in 2015 during Tom Brady's infamous deflate-gate suspension, Garoppolo carried the Patriots to wins.
Spending three seasons with the Patriots, Garoppolo is also well accustomed to the 'Patriots Way'. And it's only likely that he would gel into their offense in no time.
So with all that being said, do you believe the Patriots should go all out to bring back Jimmy Garoppolo to New England?
ADVERTISEMENT
Article continues below this ad