"Wasn't Invited to the Wedding!": Darren Waller's World Champion Wife Kelsey Plum, Chimes in on Josh McDaniels' Roast with Former Pro Bowl QB
Published 03/15/2023, 1:53 AM EDT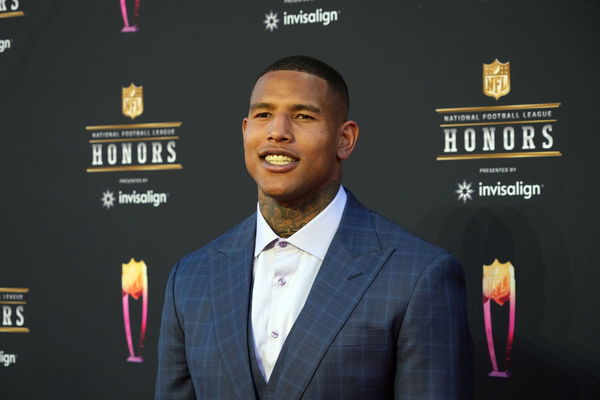 There's drama on the rise in the NFL world. If fans assumed that the offseason was going to be a boring football drought, they were sorely mistaken. With the trade window now wide open, fans have begun to witness chaotic changes among franchises in the league. While some trades have come as shockers, others fulfilled the predictions that were made in advance. However, one incident stood out.
Las Vegas Aces star Kelsey Plum and former Raiders TE Darren Waller tied the knot earlier this month. As NFL and WNBA fans cheered them on via social media, no one suspected that the tide was going to change very soon. And now, Plum pointed a finger at one important Raiders figure, and the NFL world was sent into a frenzy. Here's a look at what happened.
Darren Waller's wife Kelsey Plum didn't hold back from taking a shot at Josh McDaniels
ADVERTISEMENT
Article continues below this ad
Kelsey Plum and Darren Waller tied the knot on March 4 this year. Playing for franchises based in Vegas, their future as Sin City's power couple may have been all mapped out. However, the couple encountered their first hurdle soon enough.
Much to the surprise of the NFL world, the Raiders dropped a surprise on the TE by trading him to the New York Giants. ESPN analyst and former Pro Bowl QB Robert Griffin III took to Twitter and stated, "Darren Waller JUST GOT MARRIED to Kelsey Plum of the Las Vegas Aces and Josh McDaniels' wedding present was to trade him to the New York Giants. McDaniels is NOT a romantic." This update came 10 days after the Athletic reported that Raiders head coach Josh McDaniels revealed the couple's plans on getting married at the NFL Scouting Combine.
Reports also indicated that the TE was not happy with McDaniels after the Las Vegas Review-Journal caught wind of their wedding plans and posted a story. In light of the TE's trade to the Giants, this time, Plum took to Twitter to perhaps convey her annoyance with a humorous jab.
Replying to Robert Griffin III's comments on McDaniels,  the WNBA champion said, "Prolly cause he wasn't invited to the wedding lol." While the comeback may have been made in jest, this sudden unforeseen change in Warren's career path didn't come at the best time. Here's how fans reacted to the incident.
The NFL world stood by Plum's defense of Waller
The NFL world was stunned by Plum's comeback. Some users showed their appreciation for her response by saying
Shooter on and off the court

— Danny Marang (@DannyMarang) March 15, 2023
Brb, buying a Kelsey Plum jersey

— Jarrett Bailey (@JBaileyNFL) March 15, 2023
Some stunned fans posted hilarious memes and GIFs to convey their reactions
ADVERTISEMENT
Article continues below this ad
ADVERTISEMENT
Article continues below this ad
The timing of this trade may not be the most ideal for the newly married couple but they seem to be taking the move in stride. Plum took to her Instagram Story to share a post about the move and said, "Actually couldn't be better, we're so excited, NY let's get it 💙" What are your thoughts on the trade? Let us know in the comments!
Watch this story: NFL GOAT Tom Brady shows support for Patrick Mahomes amidst backlash over Super Bowl Trophy giveaway
Edited By: Abigail Kevichusa