Nick Diaz Responds to Georges St Pierre And Offers to Fight Him
Published 08/27/2019, 3:16 PM EDT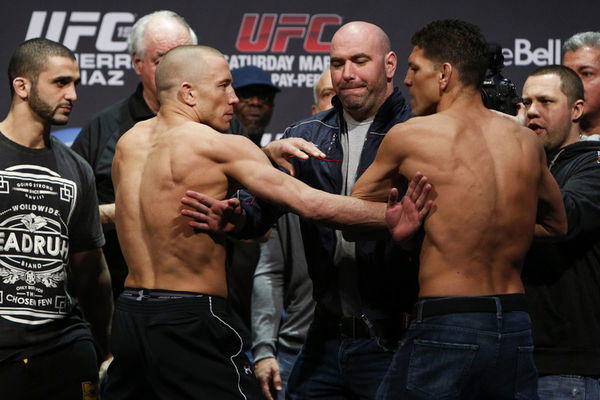 ---
---
The rivalry between Nick Diaz and George St Pierre is far from over. These two may not get into the octagon again, but the verbal altercations between these two still continues.
ADVERTISEMENT
Article continues below this ad
George St Pierre has conquered many opponents in his illustrious career and Nick Diaz is one of them. these two warriors fought in UFC 158 back in 2013 and GSP won the match via decision. And since then Nick has been obsessed for the rematch with George. Both the Diaz brothers have called out George St Pierre on many occasions.
However, things caught fire when Nate Diaz called out GSP for a fight with Nick after his much anticipated return. Responding to Nate's call out, George St Pierre said:
ADVERTISEMENT
Article continues below this ad
" Nick Diaz is one of my biggest adversaries even if we only fought once we were kind of very different personalities. But I don't want to fight his brother Nick Diaz. it's not interesting for me. There is nothing I can gain from that. the risk is not worth the reward."
And now we have a response from Nick as well. In an recent interview with TMZ, Nick said:
"George, I've a nice life. I just want to be positive. Everybody wants to make me the bad guy. GSP had a lot of opportunities in life. But i never had any opportunities. If you all are about it then  come at me. I have got a world title right here. Come and take the title."
ADVERTISEMENT
Article continues below this ad
Well,We did saw Nate Diaz talking about defending his "baddest ***** title" against Jorge Masvidal. However, Nick might be referring to the fact that GSP came back from retirement to fight Michael Bisping for the middleweight title and denied a rematch to Nick.
George St Pierre recently announced his retirement after UFC denied him the much anticipated fight with Khabib. And Nick has been inactive for more than 5 years and is involved in other ventures mainly Nick Diaz Academy. Hence it's unlikely for Nick and George St Pierre to fight each other again. However, the rivalry between Nick Diaz and GSP still continues to heat up.
ADVERTISEMENT
Article continues below this ad