Nick Kyrgios Engages In Towel Tantrums In The Midst of His Rogers Cup 2019 Loss
Published 08/07/2019, 5:24 AM EDT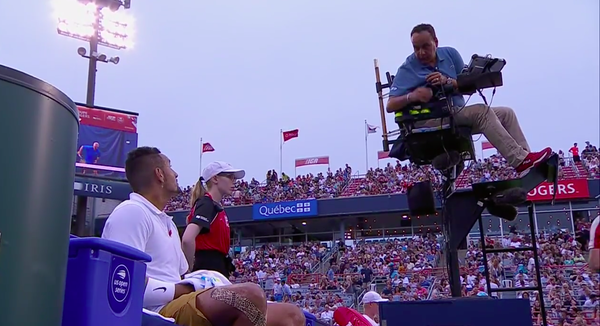 ---
---
The Washington champion, Nick Kyrgios, took on the Brit, Kyle Edmund in the opening round of Rogers Cup 2019. The Australian played phenomenal tennis of his life last week at Citi Open, but he could not keep that up in Montreal, Canada. World Number 27, Kyrgios lost 3-6, 4-6 to Edmund. In the set, he argued with the chair umpire over a 'white towel'. 
ADVERTISEMENT
Article continues below this ad
Set One: 
Towels Tantrums By Nick
ADVERTISEMENT
Article continues below this ad
Kyrgios got unsportsmanlike conduct warning for foul language as he grumbled about not getting the white towels on the court to chair umpire, Adel Nour. The tournament's branded towels were given to the players.
He asked the umpire for white towels at the beginning of the match. As the towels didn't arrive after five games were played and Nick's outburst took place. "I'm not allowed to leave the chair," the umpire said."You're telling me you can't radio in for one white towel?" a furious Nick Kyrgios responded.
The Australian Number one tennis player, Nick Kyrgios happened to go a break down at 3-2. In the entire set, the Brit converted the one and only break point that he faced and that aided him to seal the set, 6-3.
Unstoppable Kyle Against Kyrgios
Set Two: 
After taking the first set, Edmund seemed extra-charged in the next. At 1-1, while Kyrgios was serving, he faked an underarm serve. The Briton faced two break points, but the Australian's incessant serving averted Nick's set down and break down situation held his serve at 2-1.
Nick faked an underarm, then Kyle returned an overarm and Kyrgios Lauds
Their Grins
Placement Kyle!
Edmund was peaking in the match, Nick Kyrgios failed to take a lead in the set until 4-4. With the incoming of the rain in Montreal, the opening round play got suspended.
ADVERTISEMENT
Article continues below this ad
Play Resumption
Their play resumed after an hour and a half delay, and quickly, Britain's Number one tennis player, Edmund broke Kyrgios' lethal serve to love and then consolidated for a place in the second round of Rogers Cup 2019.
ADVERTISEMENT
Article continues below this ad