With no tennis to occupy them, tennis stars Eugenie Bouchard and Nick Kyrgios ensured that they keep the fans entertained on Twitter.
As we all know, both of these players are entertaining beyond their sports skills. Among their shared interests, is rubbing the big tennis players the wrong way. While Nick Kyrgios has had his beef with Rafael Nadal, Bouchard had her own issues with Maria Sharapova.
Bouchard left an interesting tweet that piqued the interest of many fans, to say the least. She said – "Not complaining, but I feel like quarantine would be a lot more fun with a boyfriend".
not complaining, but i feel like quarantine would be a lot more fun with a boyfriend

— Genie Bouchard (@geniebouchard) March 18, 2020
The tweet expectedly left the fans in splits. While obviously, many others were quick to offer themselves as possible options. However, the most interesting reply came from a certain Australian with whom Bouchard has had a history.
Creasing 😂😂😂

— Nicholas Kyrgios (@NickKyrgios) March 19, 2020
Nick Kyrgios replied to the tweet saying – "Creasing". Well, once that happened, the Twitter thread was rampant with fans acting cupid for the two big tennis stars. However, what is the relationship between the two off the court?
Watch – Eugenie Bouchard Finds Roger Federer Everywhere In Switzerland
How close are Nick Kyrgios and Eugenie Bouchard? 
Kyrgios and Bouchard have been pretty good friends off the tennis court. While they have played mixed doubles in the past, they have also stood up for each other. Obviously, their chemistry had led many to believe that they were dating.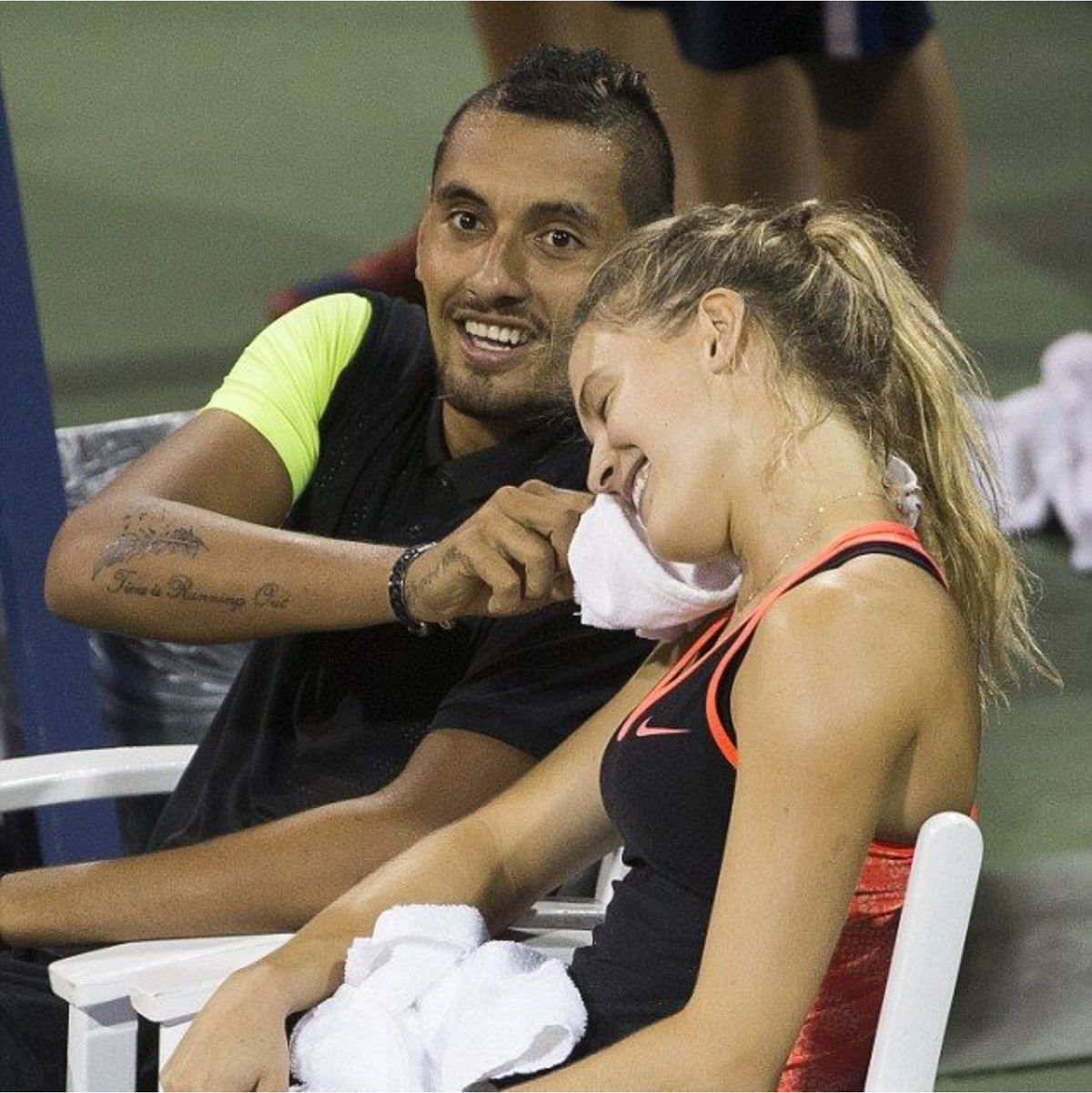 The most famous moment of their association came at Wimbledon 2019. In Kyrgios' infamous match with Rafael Nadal, Bouchard was supporting him from his player's box. However, the match was not too good for Nick. He had an ugly confrontation with the chair umpire that continued throughout the match.
Know More – "That's Where I Got Most Of My Joking Attitude From" – Nick Kyrgios Reveals The Woman Who Gave Him His Attitude
However, his temper was not appreciable with him even resorting to an underarm serve. This earned him a lot of derision from the fans who blasted him for his disrespectful attitude. However, Bouchard was one of the few who supported him. She defended his serve saying that it didn't go against the rules.
To be honest, Kyrgios is most probably dating Russian tennis player Anna Kalinskaya. The two have been spotted together multiple times. However, there's nothing wrong for tennis fans to entertain themselves for the time being.