Nick Kyrgios Wins Second Title Of The Year at Citi Open 2019
Published 08/04/2019, 6:49 PM EDT
By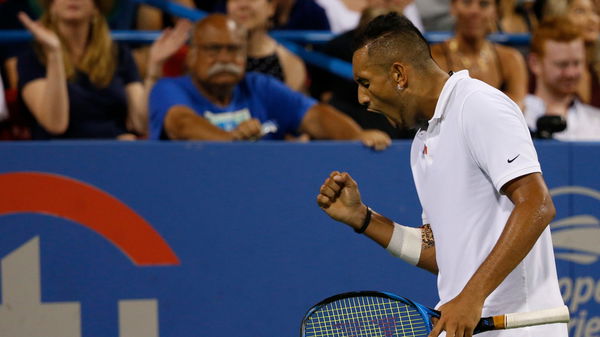 With his yesterday's win over Stefanos Tsitsipas in the whimsical semifinal, Nick Kyrgios improved his winning percentage against top-ten players to 80 percent this year. In their second career meeting, Kyrgios defeated  Daniil Medvedev 7-6(6), 7-6(4) in the finals of the Citi Open 2019 and improved 5-1 against top ten players in 2019. 
Nick Kyrgios took off with making a service hold against the third-seeded player, Medvedev. Both the men had a rock-solid command over there first serves at the beginning of the set.
Kyrgios' seemed to have some issues with his lower back and no theatrical actions were seen until 3-3. The Australian's second serves were abnormally slow. Nick Kyrgios won his first point on return at 4-3* (15-40).
Lower Back Problems For Nick 
Kyrgios led by 6-5 with a game serving out to love. Until 6-6, Medvedev just dropped a point out of the 27 points he played on his serve.
Covering up his 2-5 trail the World Number 53, Nick Kyrgios leveled the breaker at 5-5. With Medvedev moving first towards the set point at 6-5, Nick saved it with an ace.
First Set Kyrgios!
The 24 and 23 year-olds ATP men were playing quality tennis, but it was Kyrgios showing up in the next two points and the Australian held the set, 7-6(8-6).
Before The Second Set: 
Set Two: 
Again the men continued their usual drill of serves in the second set and this time it was Medvedev opening the set. The physio treatment helped Kyrgios as his second serves gained power.
Back To Nick Mode…
In the midst of holding his serve at 3-3, and none of them facing break points, Kyrgios hit a century of aces at Citi Open 2019.
A Century At DC19!
Home-Country Wishes!
Kyrgios held his serve to love at 4-4 with an underarm serve. He came up with a winner and with Medvedev double-faulting gave Nick a 30-0 lead, but maintaining the rhythm of tennis, the Russian World Number ten led by 5-4.
Backhand Cross-Court
Breakpoints refused to emerge and the second set tiebreak came close.
Gifted Tennis Brat!
A 140 mph serve gave Nick Kyrgios a 4-3 lead in the tiebreaker. Keeping his focus on the points and then seeking advice on the match point, Nick Krygios lifted the sixth title of his career!
Seeking Advice on Championship Point!
Champion NK!
First Aussie Champion in Washington Since Lleyton Hewitt!
DC Fans For Daniil!
Best Week Of His Life
At Rogers Cup 2019 in Montreal, Nick Kyrgios and Daniil Medvedev are projected to meet in the second round.