Nickmercs Speaks Up about BadBoy's Cheating Allegations on FaZe Swagg
Published 04/05/2021, 2:03 PM EDT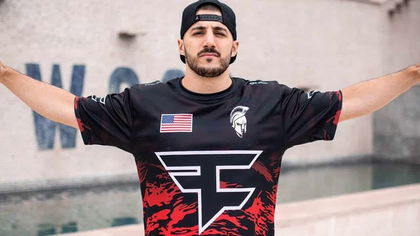 ---
---
The popular streamer BadBoy Beaman has recently become a household name in the Call of Duty community. This streamer has been throwing around allegations of cheating against other pros of the game. He has been known to do this for a while now. However, his recent allegation has become the talk of the town and has blown up in the community. He recently called out Kris 'Swagg' Lamberson, the pro from the iconic eSports organization, FaZe Clan. Swagg's personal friend and fellow FaZe member, Nickmercs, has recently spoken on this issue.
ADVERTISEMENT
Article continues below this ad
Streamers attempting to slander the names of popular pro players is not anything new in the world of eSports. We see that happen all the time. But the video that BadBoy Beaman has presented as evidence against Swagg has made a lot of pros question whether there is a chance of this being real. Here is the video that BadBoy Beaman posted from his YouTube channel calling the FaZe clan pro out.
ADVERTISEMENT
Article continues below this ad
Now, Nickmercs, who is a personal friend of Swagg and is a fellow FaZe clan member, ended up believing BadBoy Beaman for a moment. However, he was glad to clear it all out later with Swagg. The pro also cleared out the entire confusion in the intro of a later video.
Further reading: Valorant: Shroud Provides His Two Cents on TenZ's Underperformance
Nickmercs speaks up about FaZe Swagg cheating allegations
ADVERTISEMENT
Article continues below this ad
Nickmercs addressed this on one of his recent streams. The evidence that BadBoy provided was an additional blue light that could be seen on Swagg's controller, which could have been a Strike Pack. Now, a Strike Pack is a controller adapter that, in a nutshell, improves its functionality and gives the player a huge edge over others.
Now, Nickmercs said that since he was not well-acquainted with either the additional blue light on Swagg's controller or what a Strike Pack looks like, BadBoy's video almost convinced him. It was only after Swagg's clarification and his own research about this that he got to find out the truth. Knowing it, he said,
"That is slander! Like, he's going so far to throw dirt on this man's name… And anybody out there who jumps on the f–king train, you know what a real f–ked up thing about fame is? People love to see you get it popping, but you know what they love even more? They love when it all comes crumbling down."
ADVERTISEMENT
Article continues below this ad
However, most players in the community would not put themselves through all that work and will instead end up antagonizing a pro like Swagg. This is where the problem with "Hacker hunters" like BadBoy Beaman lies. We believe the solution to this issue is to incorporate an effective anti-cheat system in Call of Duty Warzone. Without a proper anti-cheat system, the community ends up taking the words of people like Beaman seriously.