Ninja, Nickmercs, Tfue, and Others React to Tom Brady Winning His Seventh Super Bowl
Published 02/08/2021, 11:15 AM EST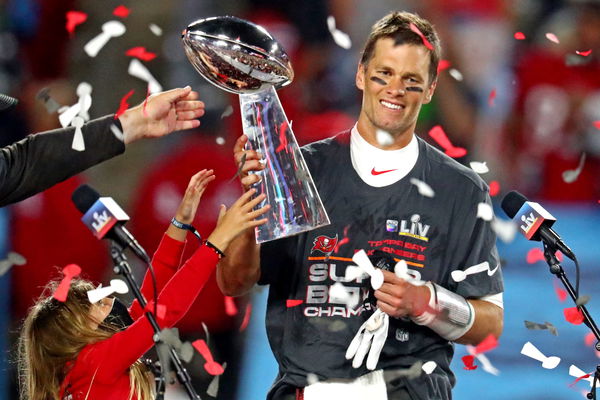 ---
---
Every year, fans wait for that one magical Sunday in February where two teams go head to head in the most awaited sporting event in the world, The Super Bowl. The game has now been played for 55 years where the NFC champions take on the AFC champions for the ultimate prize. Players and fans alike call it the game's biggest prize, and many legends of the game never even got a chance to compete for it.
ADVERTISEMENT
Article continues below this ad
However, in a sport where it's hard to get into one Super Bowl, one man makes the road to a Super Bowl look like a cakewalk. Tom Brady, Quarterback for the Tampa Bay Buccaneers, won his 7th Super Bowl, which is the most by any NFL player. They beat the Kansas City Chiefs led by Pat Mahomes, who many believe will be his challenger for the G. O. A. T. status.
It was also his 10th appearance in a Super Bowl. He has broken every possible statistical record in the playoffs, and many regard him as the best player of the game. Fans and many of our favorite streamers watched him make incredible plays and lead Tampa Bay to victory on the world's biggest stage.
ADVERTISEMENT
Article continues below this ad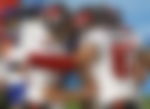 Streamers react to Tom Brady's performance
Tom Brady and the Bucs started strong and never looked like they missed a beat during the game. The team took an unassailable halftime lead of 21-6 after Brady threw for three touchdowns in the first half. By halftime, everyone already knew that this was Brady's to lose.
Tom Brady's son finna get it tonight if he wins another ring at 43

— Froste 💯 (@Froste) February 8, 2021
Brady is the one pro that doesnt seem pro. Like every pro throws with good accuracy, Brady is good but i dont think pro good. Level below pro imo

— Surge Octane (@OctaneSam) February 8, 2021
Holy shit.

Tom Brady just threw a touchdown pass to Antonio Brown as members of the Tampa Bay Buccaneers.

Talk about sentences you'd never expect to see a couple years ago 😂

— Jack "CouRage" Dunlop (@CouRageJD) February 8, 2021
Tfue, Courage, and many more crown Tom Brady as the GOAT
Many sports include the big debate on who the GOAT (Greatest of All Time) is. Fans argue about Jordan and LeBron. People also argue between Messi and Ronaldo. But in the NFL, it seems like Thomas Patrick Edward Brady Jr has cemented his legacy as the greatest. Almost everyone shares this opinion at this stage, including streamers such as Tfue, Courage, and many more.
Tom Brady really beat Drew Brees, Aaron Rodgers, & Patrick Mahomes in one single playoff run… For his 7th ring… At 43 years old… In the first year on a new team… He's the GOAT & it's not even close

— Los 🍇 (@LosPollosTV) February 8, 2021
Brady = 🐐
LeBron = 🐐
Drake = 🐐

End of story.

— Jack "CouRage" Dunlop (@CouRageJD) February 8, 2021
Every Faze member also believes that Tom Brady is the GOAT, and they believe it is almost sacrilegious for anyone to even question it anymore.
Tom Brady's the 🐐 now no debate, no questions.

— FaZe Nickmercs (@NICKMERCS) February 8, 2021
Tom Brady is undeniable. The Goat. We are never going to see something like this again.

— Censor (@Censor) February 8, 2021
I would let Tom Brady do bad things to me 😳☠️

— FaZe Banks (@Banks) February 8, 2021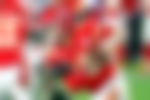 Fans also had a hard time believing that the Kansas City Chiefs' offense had been beaten to the core. The offense led by star Quarterback Patrick Mahomes had been completely neutralized by the Bucs defense and only scored 9 points. Even during the loss, Mahomes made some spectacular throws, but they never were in the game.
ADVERTISEMENT
Article continues below this ad
Mahomes is a fucking legend even if those plays didn't work

— LAZARBEAM (@Lazarbeam) February 8, 2021
It will be very unlikely for any player to catch up to his playoff records, but with this 7th Super Bowl, Brady has closed the GOAT debate for now.
ADVERTISEMENT
Article continues below this ad