Ninja Skates on Thin Ice After Stating That Halo 2 Is Ten Times Better Than Halo 3
Published 05/15/2021, 11:54 AM EDT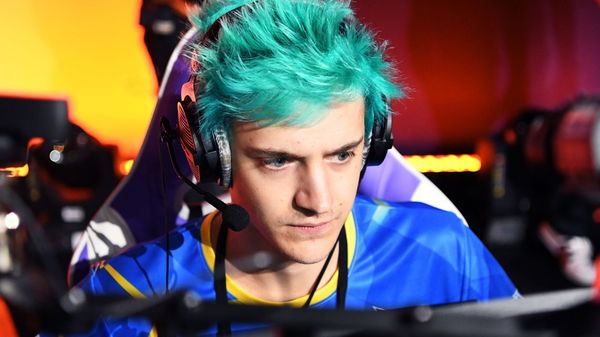 ---
---
Ninja is undoubtedly the most popular streamer of all time. The 29-year-old reached unprecedented heights of success after grinding on titles like Fortnite and PUBG, among others. But many fans don't know that Tyler Blevins started out his professional Esports career on the highly popular shooter series, Halo.
ADVERTISEMENT
Article continues below this ad
He began his Esports journey with Halo 3 in 2009 but his most successful run was between 2014-2017 while playing Halo 5: Guardians. After he quit the professional scene, Tyler became a full-time streamer, where he found even more success.
Ninja has occasionally mentioned the franchise on Twitter and his streams, where he talked about his experience playing these titles. But his latest take has sparked one of the biggest debates of the franchise.
ADVERTISEMENT
Article continues below this ad
Ninja believes that Halo 2 is ten times better than Halo 3
Recently, Ninja tweeted a controversial opinion that Halo 2 is 10 times better than Halo 3. People were shocked to know that Tyler picked the second title from the franchise over Halo 3 seeing as he started out his professional career with the latter.
The tweet opened up a can of worms, as the community discussed the pros and cons of both the games in the replies.
Bungie and 343 Industries have always churned out some amazing titles with the Halo Franchise. Fans have often argued about the best entry in the series, and there hasn't been a clear-cut winner decided by the community. During these discussions, players often choose any of the mainline titles from Halo 2 to Halo 5: Guardians.

Is Halo 2 the best game of the franchise?
ADVERTISEMENT
Article continues below this ad
Fans have continuously debated this topic, but Halo 2 has certain features that were loved by everyone. The game showcased the prowess of Xbox Live and multiplayer on the console. Other than that, it introduced online modes that became a staple of the franchise.
Matchmaking, Skill Rankings and many other additions also became vital in the evolution of multiplayer gaming. While some may have an issue with the Arbiter levels, fans can't deny the importance of Halo 2.
Other players have often believed that nostalgia is blinding fans from choosing Halo 3, 4, or Guardians over Halo 2. But the community also believes that the other titles from the franchise have their own little negatives to choose from. In the end, it depends on preference, which is why fans can't decide on a clear-cut winner.
ADVERTISEMENT
Article continues below this ad
With Halo Infinite releasing soon, it seems like the decision will only get harder. So far, the developers showcased some very cool stuff, and fans can't wait to update their list of the best games from the series.
Trending Stories