Joe Burrow: First Responder/Serial Offender – Trey Wingo's Story
Published 03/10/2023, 5:27 AM EST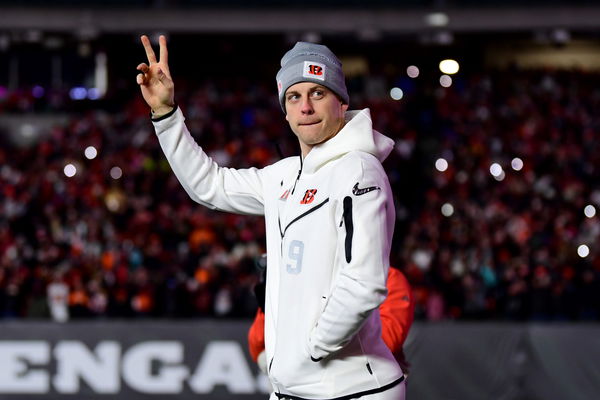 Joe Burrow, the ultimate underdog who defies the odds and keeps on winning, captured the hearts of a nation and inspired the Bengals to new heights this past year.
ADVERTISEMENT
Article continues below this ad
But this is no mere stroke of luck, as he has faced skeptics throughout his career and turned his team's fortunes around time and time again. Now, let's delve into the story of Joe Burrow.
Burrow comes from a family with a rich history of sports. His father played in the Canadian Football League and at Nebraska, while his grandmother and grandfather set basketball records at Mississippi State and played D1 basketball, respectively. His two older brothers also played D1 football.
ADVERTISEMENT
Article continues below this ad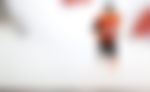 From Humble Beginnings to Heisman Trophy: The Inspiring Story of Joe Burrow
After leading Athens High to three playoffs and winning Ohio Gatorade Player of the Year and AP All-State. Joe Burrow contacts an Ohio football analyst on Twitter to improve his visibility and address attention concerns.
Joe asked humbly if there were camps he could attend to increase his visibility, stating,
"I was wondering if there were any specific camps I should go to to help get my name out there because I'm not really getting any attention."
In college, Joe Burrow won the Heisman Trophy with the largest victory margin in the award's history. In his acceptance speech, he gave a touching shout-out to the Athens, Ohio food bank, showing his great character. As a result, more than four hundred thousand dollars were donated to the food bank just a year later.
READ ALSO –  NFL's Rising Star Joe Burrow Gives a Pro Lesson in Gripping the Football To Perfection: "Always on second lace"
Athens High School named their football stadium after Burrow in recognition of his achievements and impact on the local community. Burrow's success on the field and his generosity off it left a lasting legacy.
Trey Wingo shares a fascinating story of Joe Burrow's unflappable demeanor on the court
Trey Wingo, the former co-host of ESPN Golic and Wingo show along with NFL Primetime. In a Caps Off Podcast, Wingo says Burrow's coach, a sociology professor, told his parents he has first responder/serial offender qualities – meaning his blood pressure stays steady in high-pressure situations. The coach is thankful Burrow is using his talents for good and not becoming the next Dexter.
"Joe burrow when he was nine years old he was playing in an AAU basketball team and his team was down by eight points with 30 seconds to go the coach said we kind of thought it was over and then burrow scored nine straight points including seven straight free throws to give the team the win."
Additionally "his coach was also a sociology professor at Ohio University and after the game he went to borough's parents that I just want you to know that Joe has the kind of qualities you find in serial and First Responders policemen and serial offenders, in other words, his blood pressure doesn't change whether he's cutting the lawn or pulling people out of a building I say this because I work with people and I do sociology on crime thank God he's not using his talents for bad because he could be the next Dexter."
ADVERTISEMENT
Article continues below this ad
Carson Palmer Applauds Joe Burrow's Unwavering Composure Under Pressure
Carson Palmer (American football quarterback) in a show SiriusXM speaks highly of Joe Burrow's exceptional qualities on the field. He marvels at how Joe Burrow remains unaffected and calm, even in the face of extreme pressure. Palmer notes QBs struggle when sacked multiple times in a game, but Burrow is an exception.
Palmer admires Burrow's ability to stay even-keeled, without his mind wandering to alternative plays. Unlike other quarterbacks, Joe Burrow doesn't get flustered, and he doesn't second-guess himself. Palmer thinks Burrow's composure is a vital quality for quarterbacks.
ADVERTISEMENT
Article continues below this ad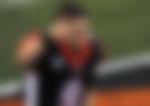 From his humble beginnings in Ohio to his current NFL stardom, Joe Burrow's inspiring story continues.
Edited By: Abigail Kevichusa