RUMORS: Tampa Bay Buccaneers To Reunite Antonio Brown With Former Steelers Teammate
Published 12/22/2021, 6:48 AM EST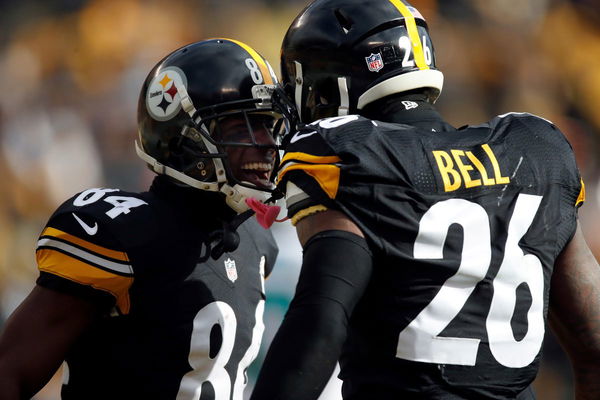 ---
---
The Tampa Bay Buccaneers are known for their legendary duo of Tom Brady and Rob Gronkowski. But recently they are planning to reunite another legendary duo. The reports came out on Tuesday evening that the Buccaneers are planning to sign the running back Le'Veon Bell. They already have the wide receiver Antonio Brown under their possession.
ADVERTISEMENT
Article continues below this ad
The signing of Bell will excite Pittsburgh Steelers fans in particular. If the Buccaneers successfully sign Bell, it will reunite him with his former teammate Antonio Brown. The duo of Brown and Bell has dominated the football fields with the Steelers. 
Bucs are reuniting Antonio Brown and Le'Veon Bell, who once tore up the league with Ben Roethlisberger in Pittsburgh.

— Jeremy Fowler (@JFowlerESPN) December 21, 2021
ADVERTISEMENT
Article continues below this ad
The duo of Le'Veon Bell and Antonio Brown 
Le'Veon Bell and Antonio Brown played together from 2013 to 2017 with the Pittsburgh Steelers. Both of them are problem children, but there is no denying that together they are unstoppable. When they played together in Pittsburgh, Le'Veon made 35 touchdowns and rushed for 5,336 yards. Antonio made 67 touchdowns and received 7,848 yards. Will they be able to possess the same magic for the Buccaneers? That remains to be seen. 
After leaving the Steelers, Le'Veon Bell played for the New York Jets, Kansas City Chiefs, and Baltimore Ravens. He played five games with the Ravens this season. In those games, he made two touchdowns, rushed for 83 yards, and had 31 carries. Bell has played 118 snaps for the Ravens.
Antonio, on the other hand, has been cleared to compete again. He suffered an injury, and he was serving a suspension as well. The last game he played was the week 6 win over the Philadelphia Eagles. The wide receiver has 29 passes caught for 418 yards and four touchdowns to his name. 
ADVERTISEMENT
Article continues below this ad
Tampa Bay Buccaneers' current situation
The Buccaneers are in a desperate need of a wide receiver after they lost Chris Godwin. Godwin tore his ACL in the Sunday night game against the New Orleans Saints. He is out for the rest of the season. Who better to fill those shoes than Le'Veon Bell?  
ADVERTISEMENT
Article continues below this ad
The Buccaneers already have a star-studded locker room. The defending champions are the favorites to win the Super Bowl again this year. They are the current leaders of the NFC South. Tampa Bay is definitely making it into the playoffs this season with a record of 10-4. It will be very interesting to see Le'Veon Bell and Antonio Brown play together again.