No unrest due to my retirement: Haddin
Published 09/13/2015, 3:31 AM EDT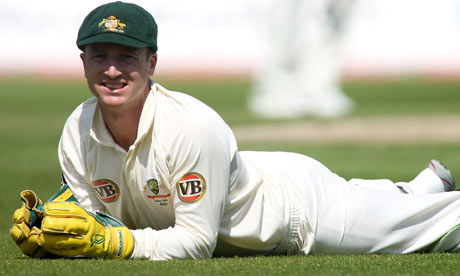 ---
---
Australia's veteran wicket-keeper Brad Haddin clearly said that there is no unrest among the players following his retirement after Ashes 2015. Haddin had missed the second Ashes test citing family reasons. He was available in time for selection for the third test but was dropped as the team management decided to stay with his replacement Peter Nevill who had created an Ashes record in the second test.
ADVERTISEMENT
Article continues below this ad
"I don't think that (player unrest) was the case at all. I think there were people that were shocked with the decision but you're also in a professional sport these days and if you put yourself in that vulnerable position to walk away you've got to live with the consequences."
Former skipper and legend Ricky Ponting and ex-opener Matthew Hayden criticized Australia's decision to keep Haddin on the bench for the third Ashes test. Australia, though, have always stuck with the family first policy, but Haddin's axing after missing a test to be with his ill daughter didn't go down well with the former two superstars. Australian coach and ex-player Darren Lehmann described the decision to be the "hardest decision I've had to make as a coach, or even as a player."
ADVERTISEMENT
Article continues below this ad
"Any mum and dad who have experienced the issues Brad and his wife Karina are going through will understand there's no way he was in a position to play cricket at Lord's. It doesn't say much for the family-first policy if Brad puts his family first and all of a sudden he's out. Sometimes the heart has to play a part in selection," Hayden had written in his column for News Corp.
"I know it would have been a hard call for him, he has been a single-minded and determined servant of Australian cricket, but he rightfully put his family first and has paid the price for it. I know he won't complain about being dropped. He is a tough character but it doesn't sit right with me," Ricky Ponting had said, when the news of Nevill being preferred in place of Haddin for the third Test came through.
Haddin was fully aware of the possible consequences of him missing the second test after a one-sided affair in the first test where the Australians were literally blown away, but was really happy to see his team excel at Lord's. Australia destroyed England at the Mecca but went on to lose the next two tests and lost the series 3-2.
"I knew once I made that decision (to miss the second Test at Lord's) I put myself in a vulnerable position. No matter what the reason you pull out of a Test match, it's a big business these days and Australia performed outstanding in that Lord's test." Haddin said.
Haddin has always been a very decent contributor with the bat but has been an even better wicket-keeper. His diving catches, even in his late 30s, would probably give other keepers a complex. He has 3266 runs from 66 tests, 3122 runs from 126 ODIs and 402 runs from 34 T20s. His presence on the cricket field will surely be missed.