"Not a Coach who just works on Numbers"-Peter Moores
Published 06/23/2015, 8:14 AM EDT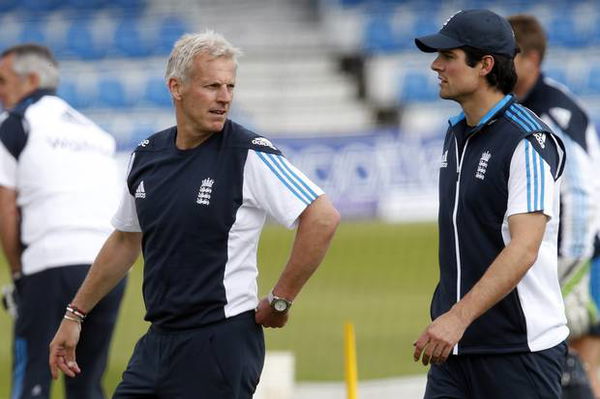 ---
---
Sacked English coach Peter Moores dismissed reports of him being a heavily 'statistics' kind of a coach who was obsessed with'data'.
ADVERTISEMENT
Article continues below this ad
Peter Moores, who saw his second stint with the English side came under the axe on May 8th earlier this year following England's dismal show at the ICC cricket World cup in Australia and New Zealand where his side lost to a rejuvenated Bangladesh side to which he responded by saying we will have to look at it later" were reported as "we will have to look at the data".
Moores however remained quiet over his entire sacking process and also accepted his ill fate before the allegations of him being a heavily statistically driven coach gained steam. It was only then the coach came out lamenting how misrepresentation of his methods played a crucial role in his departure.
ADVERTISEMENT
Article continues below this ad
"I have to accept my time as England coach has gone," Moores said in an interview with ESPNcricinfo. "It's pretty hard to accept. But it's done. The umpire's finger is up." he added.
"But I am frustrated. The portrayal of me as a coach in the media is just wrong. If people said 'I don't rate you as a coach' then fine. But when it's not what you are, it's really frustrating." added the Cheshire man.
"We moved away from stats and data. Coaching doesn't work like that at all. You watch a lot to say a little," he said. "I've been in the game for 33 years and I've coached for 17. I know the game. And what I've learned is, my job is to simplify the game for players and free them up to go and play." he added .  "I have an official letter [of apology] from the BBC. It's a tough one. I didn't say it ('data')."
The Former Lancashire coach also expressed his interest in reunion with the ECB if he ever gets another opportunity ."Yes, I'd work for the ECB again," he said. "A role at Loughborough would be exciting. I love coaching and that would be working with the best players and coaches. Yes, it appeals." said the 52 year old.