'Not Easy As A Woman'- Shelly-Ann Fraser-Pryce Opens Up On Competing Against Expectations At 34 years
Published 11/07/2021, 8:21 AM EST
---
---
Jamaican track and field athlete Shelly-Ann Fraser Pryce is widely regarded as one of the best sprinters of the era. When it comes to track and field, she is one of the big names representing Jamaica, along with legends like Usain Bolt.
ADVERTISEMENT
Article continues below this ad
From running barefoot to grabbing the silver medal at Tokyo 2020, Fraser Pryce has come a long way. She is regarded as the 3rd fastest woman in the world. After giving birth to her son Zyon, Fraser Pryce was looked upon with doubt. But she came back even stronger, the strength of motherhood with her.
ADVERTISEMENT
Article continues below this ad
Recently, in an interview with Revolt, Pryce talked about how she was thriving in the sport and didn't give in to societal pressure to retire at 30. Instead, she keeps on blazing on the track.
3o doesn't equal retirement, says Fraser Pryce
Over the years, Jamaica has successfully produced many star athletes. Especially when it comes to track and field, names like Usain Bolt, Yohan Blake, and Fraser Pryce stick to one's mind. At the 2020 Olympics, Pryce successfully smashed records, securing the Gold for Team Jamaica at the 4*100 relay. Additionally, she also won a silver medal for herself.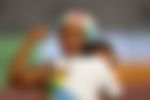 It is a popular belief that athletes are no longer in the prime of their career once they reach 30. Many athletes do give in and retire when they reach that age. However, Fraser Pryce is not one of them. She is out here to smash all records and be the best version of herself.
Recently she talked about how the age of 30 doesn't equal retirement. The coming of a new generation of athletes doesn't mean that the earlier generation has to step down.
"I'm definitely thriving for sure because it's not easy as a woman to do what I'm doing right now at the level of which I'm doing it because for so long, a lot of times we are told that when we get to the age of 30, that's the time you should step away and open the door to a new generation. But, why can't you open the door for a new generation while doing your best or what you can to achieve your success?" said Pryce.
In fact, experienced athletes like Pryce can actually act as mentors. Junior athletes look up to these athletes because they have been through so much, they have done so much, achieved so much. Fraser Pryce is a perfect example of that. She came back even stronger after her pregnancy, bashing all rumors about her retirement.
Pryce bashes retirement rumors
Shelly-Ann further revealed that she hasn't really fixed a year of retirement right now. She wants to see how she performs at Paris 2022.
The athlete actually revealed that the way she is performing right now is unheard of. She believes she is still competing at the highest level.
"Okay, 2022 was going to be it.' But then, I'm running a 10.6. I'm still breaking records and still winning medals. I'm still competing, and I'm competing aggressively and making an impact. So, right now, I'm willing to see where it goes after 2022. It's worth my time to see where this takes me. I never imagined that at 34, almost 35, I'd be running 10.6s. It's never heard of," said Pryce.
ADVERTISEMENT
Article continues below this ad
She wants to inspire women, wants them to have a vision. She wants to motivate and encourage them to keep on performing and giving their best. Fraser Pryce believes that her continuing to perform will have a great impact on women and female athletes all over the world.
ADVERTISEMENT
Article continues below this ad
Fraser Pryce will continue to give her best to the sport. We look forward to her performance in the World Athletics Championships 2022.