"I am not interested in breaking records" – Rafael Nadal
Published 05/13/2018, 4:38 PM EDT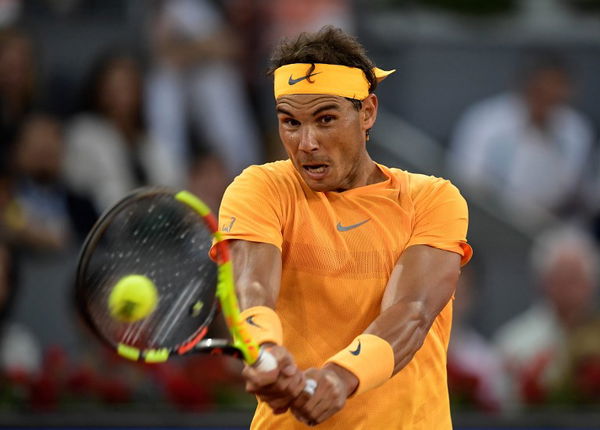 ---
---
Up until his defeat at the hands of Dominic Thiem in the quarterfinals of the Madird Masters, Rafael Nadal was on an invincible run. He won the Barcelona Open and the Monte Carlo Masters convincingly. He was undefeated for 21 matches and 50 sets at clay before Thiem defeated him 7-5,6-3 to hand him over his first defeat of the clay court season. Thiem was also responsible for Nadal's only loss at the clay court in 2017.
When asked about his loss and how it affects him, Nadal said that he was least bothered about making records and was looking forward to his next tournament, the Rome Masters. He was adamant the result of Rome won't affect his preparation for the French Open. 
"I am not interested in breaking records. In our sport there is not time to think too much about a defeat. Every week there is a new tournament. There is only a winner. It's part of the game. I cannot be happy that I lost to Thiem in Madrid. I know the reason and I am working with my team on what I have to do to avoid other defeats.", said Nadal.
He seemed pretty relaxed in his run up to the Rome Masters. Commenting on this, Nadal said, "I am in Rome to do my best. There are no tournaments to prepare Roland Garros. The result I will achieve in Rome will not affect my build-up to Paris. All clay tournaments are different. I don't feel the pressure to defend my points in Paris. I am proud with my results after the injury. I played good matches and I won two titles. Conditions in Monte-Carlo are totally different from Madrid."
He might even face Dominic Thiem, again in the quarterfinals of the Rome Masters. Before Madrid, he played Thiem in the Monte Carlo Masters Quarterfinals, beating him 6-0, 6-2.