"Not Jealous of Rafael Nadal, Federer, or Djokovic": Benoit Paire Admires Their Peerless Dominance in Tennis
Published 12/21/2020, 6:00 AM EST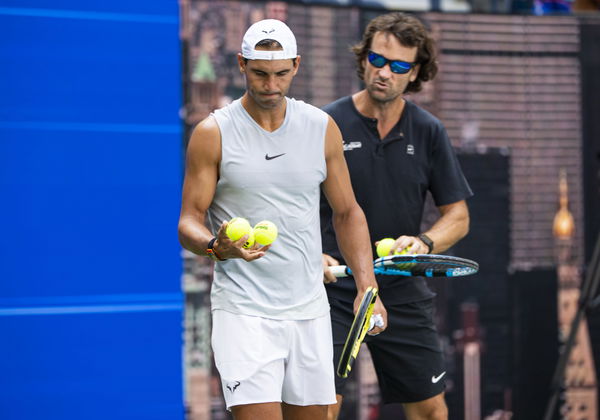 ---
---
In the modern era of the men's game, Roger Federer, Rafael Nadal, and Novak Djokovic been the most dominant players. Probably not just the modern era, but going back to its inception. Another amazing fact is that the three of them are such different people, as individuals and players.
ADVERTISEMENT
Article continues below this ad
The statistics speak for themselves, Nadal is tied with Federer on 20 slams, whereas Djokovic is on 17. The fact that these guys are continuing their dominance after being in their 30s speaks volumes. Federer on the other hand is going to turn 40 in August next year. These guys are looked upon by athletes from various sports.
Recently, French tennis player Benoit Paire ushered in praise for the big 3. He had a special mention for Rafa and was in complete admiration for the Spaniard. Paire wondered how can a player win a grand slam and prepare himself for the next tournament in the next coming days.
ADVERTISEMENT
Article continues below this ad Rafael Nadal Wins the French Open and Trains Two Days Later
He said, "I'm not jealous of Nadal, Federer, or Djokovic. I respect them a lot and I think what they do and how invested they are is amazing. But damn, when I see Rafa win the French and two days later he's training at Queen's for the grass-court season… It's a different world! If I won the French I don't know if I'd go to Queen's or even to Wimbledon. Actually, I think I'd end my season there!"
ADVERTISEMENT
Article continues below this ad
Benoit went on to praise the three of them further and not to mention a slight sense of honor for himself too. To be able to maintain himself around these guys on a regular basis is noteworthy.
The Frenchman stated, "Without them, tennis wouldn't be where it is today. I admire them enormously, but I will never be like them. That doesn't stop me from considering myself a champion. I was 18th in the world, I've been in the top 100 for 10 years, and I have three ATP titles: That's a perfectly good career."
Paire didn't have a great season this year. He managed to only go as far as the second round in the Australian Open and French Open. He missed the US Open as he tested positive for COVID-19 a day before. We look forward to witnessing all players in Melbourne next year.
ADVERTISEMENT
Article continues below this ad