"Not Qualified!": Megan Rapinoe Gives Hilarious Reply to Fans Asking Her to Marry Them
Published 11/02/2021, 4:01 AM EDT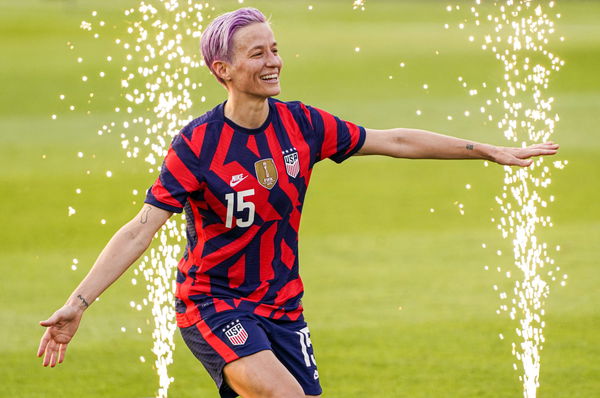 ---
---
USWNT soccer star Megan Rapinoe is known for her stunning performances. She is currently the captain of the United States National team. Notably, Rapinoe won gold with the national team at the 2012 London Summer Olympics, won the 2015 FIFA Women's World Cup, and the 2019 FIFA Women's World Cup.
ADVERTISEMENT
Article continues below this ad
Megan Rapinoe started playing from a very young age and has spent most of her life on the field. The winger currently plays for OL Reign in the NWSL. Apart from her consistent heroics on the pitch, she is known for supporting many charitable causes and being a vocal leader for many relevant issues.
ADVERTISEMENT
Article continues below this ad
Recently, a fan showed up in one of Rapinoe's matches, saying she wanted the athlete to officiate her wedding. Rapinoe had a hilarious reaction to that.
 Rapinoe reacts to a sweet gesture from a fan
The cute couple showed up in one of the matches Rapinoe came to watch. They carried a signboard, requesting Rapinoe to officiate their wedding.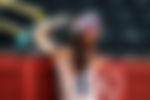 Rapinoe herself took this in a very fun way. She took the couple's sign and autographed it. She wrote, "I am not qualified, but Congrats," finishing it off with her signature.
The couple took to Twitter and posted the signed sheet. They believe the sheet signed by her is deserving of becoming their signed marriage license.
Meanwhile, fans also commented on the post saying that if Megan Rapinoe signed it, it surely counts as an official marriage license.
Megan Rapinoe and Sue Bird, a match made in heaven
In 2020, Megan Rapinoe got engaged to her long-time girlfriend, Sue Bird. The two of them have been dating for the last 4 years.
Proposing to Sue Bird was a spontaneous decision on Megan Rapinoe's part. But when it happened, it went perfectly. Rapinoe revealed she didn't even have a special ring to propose to Bird.
"I actually took one of the rings off my fingers and gave it to Sue. And I didn't know exactly when I was gonna do it but just, like, the perfect moment presented itself," said Rapinoe.
Further, she revealed that she just was thinking about it, but when the moment presented itself, she went for it.
I just don't actually have a plan so I had been thinking about it for a while, thinking about it really every day for a number of months," added Rapinoe.
ADVERTISEMENT
Article continues below this ad
 

View this post on Instagram
ADVERTISEMENT
Article continues below this ad
The couple first met during Rio Olympics 2016 and hit it off right away. They took to Instagram to announce their engagement with adorable photos.