Novak Djokovic bows out of Wimbledon 2016
Published 07/03/2016, 2:10 AM EDT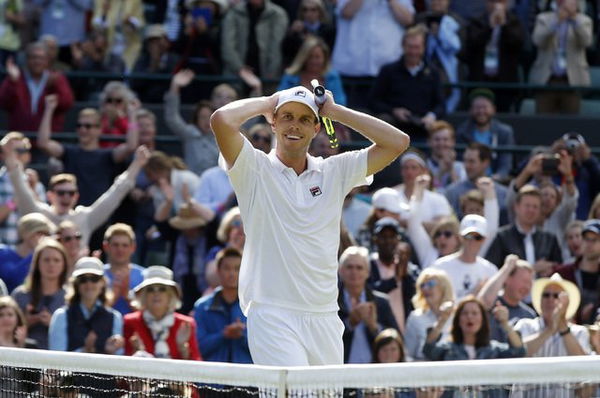 ---
---
Boris Becker, the Wimbledon champion from 1985 and 1986, lost in the year 1987 in his second round encounter against Peter Doohan. There was nothing ordinary about Boris Becker, but having seen everything that he did with an infectious conviction, his loss against the unseeded Doohan was rather surprising in its own way.
ADVERTISEMENT
Article continues below this ad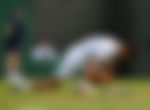 ADVERTISEMENT
Article continues below this ad
So was Novak Djokovic's loss today.
The world No. 1 lost in an enthralling 4-setter match against the 28th seeded Sam Querrey this evening. What Querrey achieved this evening wasn't just a rare feat of shocking Novak Djokovic with his aggression, but given the bumpy circumstances of interrupted play, the 28th seed has pulled this year's unbelievable.
ADVERTISEMENT
Article continues below this ad
Winning a Grand Slam is difficult and if it was anybody in the open-era who could do it, it was Novak Djokovic. The No.1 seed, who was overpowered by Sam Querrey's outstanding performance in a 2-day thriller, looked resurgently focused after a bizarre 2nd set. His performance was tight, yet loose. His play was tentative, as was the weather which played much to his benefit for the entirety of the match, however not so successfully. Sam broke his serve at the most crucial of times, right from the first set to the final game of the 4th set.The 12-time Slam winner hit one too many unforced errors, but soon broke into form on day-2 when he wound up 4 games in just 17 minutes.
Novak known for his versatility and agility on court seemed helpless against the 6'6" American's giant serves, who delivered nearly 31 aces compared to a meagre 7 from his side. Maybe it was the impending pressure that lurks after an unreturned serve, or the inability to cope with variations: Novak Djokovic has been in tougher spots and has, unlike today, come victorious.
Luck would shower it's opportunities after every rain, but the discretion wasn't up to the players. A 2nd shower broke during the fourth set, when both players seemed to gain ground after a deciding 4th set with Djokovic able to convert another break point to settle scores at 5-4 for the set. His inability to convert breaks points into games gave Querrey the benefit of points, winning about 27% of his own breaks. Just before the final rain break, the game scores loomed at 6-5, with Djokovic showing signs of loose play and errors.
ADVERTISEMENT
Article continues below this ad
A quick smile during the concluding handshake explained it all: the ordeal had finished. There were mistakes, there were distractions and there was a bizarre performance. Novak Djokovic, who had not even lost a single set before a 4th round stage of a major in 2 years, had just been defeated, putting an end to his 30 consecutive Grand Slam wins.
"Incredible" is what were among the first words Sam Querrey could speak.