Novak Djokovic Breezes Past Stefanos Tsitsipas to Win Fifth Dubai Open Title
Published 02/29/2020, 11:36 AM EST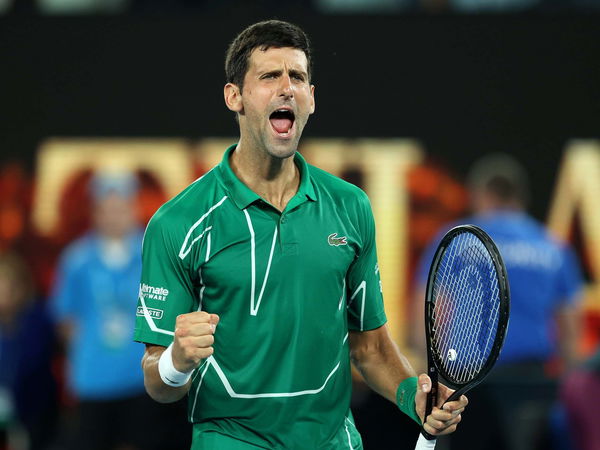 ---
---
Novak Djokovic and Stefanos Tsitsipas met in the final of the Dubai Duty-Free Tennis Championships. Djokovic came into the match unbeaten in the season, winning both the ATP Cup and the Australian Open.
ADVERTISEMENT
Article continues below this ad
Tsitsipas, too, came into the final in very good form, defending his Marseille Open title a few days ago.
Djokovic defeated Tsitsipas 6-3,6-4 to win his fifth title at Dubai Open, and continue his clean sweep of titles in this season.
ADVERTISEMENT
Article continues below this ad
The duo had played each other on four previous occasions, sharing the spoils between them. But now, Djokovic leads 3-2 in their rivalry.
Novak Djokovic comes alive to take the lead
It was Novak Djokovic who started the match off with his service game. After a solid start, the Serb missed an easy smash to open the door for Tsitsipas to make it 30-30. Djokovic held his serve to get off the mark, despite a deuce. Stefanos held his serve to love to give himself the perfect start.
The Greek continued his solid start, holding his service games quite comfortably, putting in a healthy percentage of first serves in play. He got into a good serving rhythm right from the start.
It took Novak longer to get into his, and Stefanos looked to take full advantage as he got himself a breakpoint in the fifth game. However, Novak managed to fend-off the Greek's onslaught and hold, to lead 3-2 in the opening set.
Novak earned his first breakpoint in the eighth game, helped by a double fault and a poor unforced error by Tsitsipas. A rally ensued at 30-40, which Stefanos took control of, but Djokovic hit a brilliant passing shot on the stretch to break and take and go 5-3 on serve.
A solid hold of service by Djokovic gave him the first set in the match at 6-3. One loose service game by the Greek enabled Djokovic to pounce and take the lead.
Set 2
Stefanos managed to hold the opening game of the second set despite going 0-30 down. An important hold, as Novak put the pressure on him right from the start. The Serb was now settled in on his serve, holding to love to make it 1-1.
At 1-2, Djokovic raced to a 40-0 lead, frustrating Tsitsipas. He got himself a verbal-abuse warning as he mouthed-off a few words towards the crowd. Novak held, to make it 2-2 in the second.
The second seed's problems continued as he gave Djokovic two breakpoints with a double fault at 15-30. A cautious rally by Tsitsipas followed, but Novak was determined to take control. He finished off the point with a smash to go ahead in the second set.
The Serb was now in command of the match as he served at 3-2.
ADVERTISEMENT
Article continues below this ad
The break of his service seemed to free-up Tsitsipas somewhat, as he played a couple of beautiful points to give himself two break points at 15-40. The Greek earned himself a second lease on life as he broke back immediately to restore parity.
ADVERTISEMENT
Article continues below this ad
However, Novak continued his onslaught on Stefanos' serve, taking a 15-40 lead. Djokovic finished off a wonderful rally with a drop shot. The Serb was back in front with a 5-4 lead, on serve.
Nole needed just one more hold of serve to take the match and win the title. The Serb had little problems wrapping up the match as he held to love and win the match 6-3, 6-4.