Novak Djokovic Hails Cancer Survivor at Cincinnati Masters
Published 08/17/2019, 6:01 AM EDT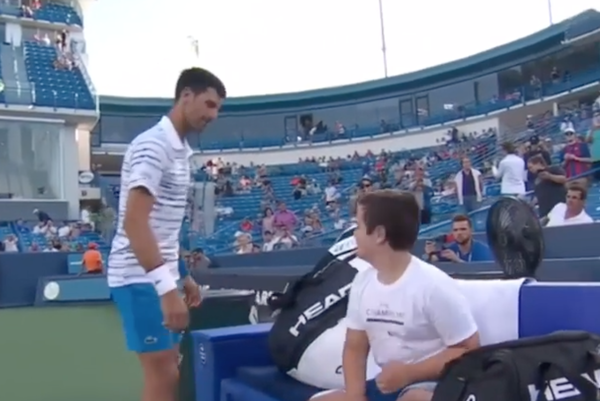 World No. 1 Novak Djokovic once again endeared himself to the fans with a classy gesture. The Serbian star reached the quarter-finals of the Western & Southern Open after defeating Spaniard Pablo Carreno Busta in straight sets. However, much of the attention was grabbed by the person who accompanied him to his bench.
ADVERTISEMENT
Article continues below this ad
Djokovic walked to the court, hand-in-hand with a boy named Joel who is said to be a cancer survivor.The Cincinnati Children's Hospital Medical Center revealed that Joel was diagnosed with stage 4 neuroblastoma before he was born.
Prior to the pre-match meeting with the chair umpire, the top seed encouraged Joel to sit on his bench. He even offered the young boy a water bottle and interacted with him.
ADVERTISEMENT
Article continues below this ad
After the match, Djokovic spoke about young Joel, he said, "I met him just before we walked onto the court. He was actually holding my hand, I was walking with him on the court and I actually heard after the first set the speaker said he survived a neuroblastoma cancer when he was a 10-day-old baby and he was wearing a shirt [that said], 'I Am A Champion'. Those kinds of moments stay with him for a long time and I wanted to make him feel comfortable. I know what it means to him to be on the court and for me it was just a little bit of attention and a gesture to make him feel good."
ADVERTISEMENT
Article continues below this ad
Thought-provokingly, it is not surprising to see the 33-time ATP Masters 1000 champion do such a kind act. This is because, Novak Djokovic has been a long-time supporter of children through charity. In addition to that, his Novak Djokovic Foundation focuses on efforts to improve early childhood education. The foundation does everything it can to help children by giving them a chance to enjoy a quality preschool education.
Regardless of whether Djokovic wins in Cincinnati or not, he has certainly earned one new lifeling fan. Joel received an experience of a lifetime, and Djokovic summarised his feelings about the moment perfectly on his own social media accounts.
ADVERTISEMENT
Article continues below this ad
"He survived and now he rightfully wears the t-shirt that says CHAMPION."
Coming back to the actual tournament, after dispatching off Carreno Busta, Novak Djokovic downed Lucas Pouille in the quarterfinals. Now, the Serbian player will go up against Daniil Medvedev in the semifinals. The winer of that atch will meet either David Goffin or Richard Gasquet.