Novak Djokovic on His Tennis Game on Belgrade Street
Published 02/20/2020, 4:16 PM EST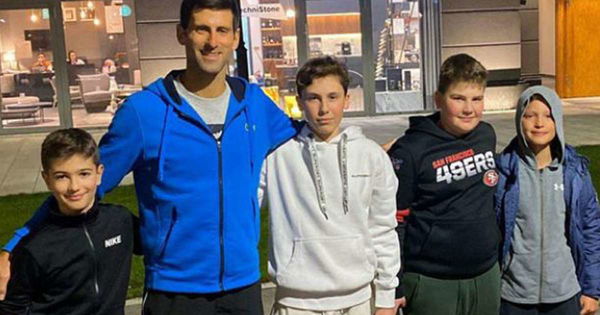 ---
---
Novak Djokovic is in Belgrade, Serbia this week as he dedicates his time to the Novak Djokovic Foundation. While in Belgrade, Djokovic saw a few kids playing tennis on the street in the neighborhood. Naturally, he could not resist joining in with the kids' game.
ADVERTISEMENT
Article continues below this ad
It's my pleasure- Novak Djokovic
The World No. 1 has no qualms in playing a game of street tennis with some kids. Maybe he simply could not resist the urge, given that he is off the Tour a couple of weeks now.
ADVERTISEMENT
Article continues below this ad
When he first saw the kids playing without a net, he went over and had a little chat with them.
"It was spontaneous, I was coming back with rackets, the first time I saw the kids playing tennis without a net. Then I told them I was going to bring a net between two lamp posts to hook them up and play nicely."
I can only imagine the rush the kids went through when the country's hero came up to them. They probably never even dreamed they would get the chance to play with one of the greatest tennis players ever, especially on the streets of Belgrade.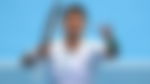 Humility has always been a pillar of Novak's character throughout his career. He is a man of principles. And while there may have been times when his conduct on the court did not sit well with fans, it is imperative to understand the range of emotions players go through in the heat of battle.
It is not always easy to keep your emotions under the wraps when you are out there all alone, fighting.
Check out the video of Novak playing with the kids on the streets of Belgrade.
ADVERTISEMENT
Article continues below this ad
Djokovic elaborated further on what the incident meant to him personally.
"It was great, for such moments one lives. Now, as a father, I invoke these situations to play with the children, and it is my pleasure to see the children play tennis, hit the wall, that's how we all started."
ADVERTISEMENT
Article continues below this ad
"It was an amazing decade for our tennis. That obviously helped the popularity of the sport in our country. There was a lot of interest, a lot of young people choosing to grab a tennis racquet."
Such wise words from a terrific champion. Novak is quite big on making the sport popular in his country. Talking about the recent success Serbia had in tennis, he hopes it will only get better going forward.