Novak Djokovic Records Which May Never Be Broken
Published 02/16/2020, 2:56 PM EST
By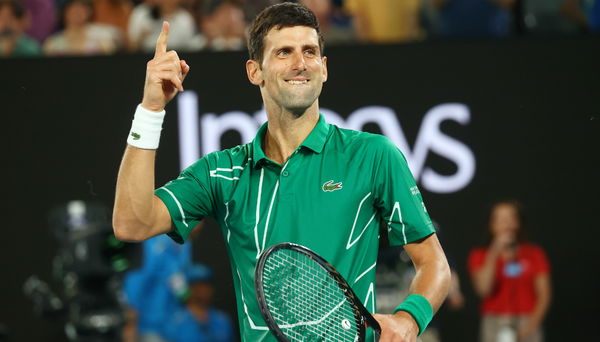 Novak Djokovic is on top of the world these days. In the first week of February, he outlasted Grand Slam aspirant Dominic Thiem in an epic encounter. The Serbian sits as the undisputed King of Australia after extending his record to 8 slams Down Under.
Novak Djokovic – the titan
Djokovic also recaptured the World No. 1 spot in the process of lifting the Australian Open- something that probably wasn't weighing heavy on his mind so early in the season, but he simply wants it all. You don't get that good unless you want it all, right?
ADVERTISEMENT
Article continues below this ad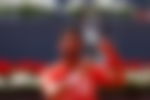 Djokovic has spent his entire career trying to prove himself as the best. He has come pretty close to proving that he is not just the best, but maybe the best of all time. Look back and you see months and years where his domination knew no bounds. He outclassed the best of the best on the biggest of stages.
With his 8th Major, he now inches closer to Rafael Nadal's 19 and Roger Federer's 20 with 17 for himself. I have little to no doubt he will break the record for the most Grand Slam titles in men's tennis.
As he is plowing through the tennis records, let's take a look at some records that he already holds and are unlikely to be broken any time soon.
Holder of all 4 Majors on three different surfaces
The record of holding all four Grand Slams on three different surfaces has to come first on this list. In 2016, Novak Djokovic finally won his first French Open title to complete his career Grand Slam. He also held the other three Majors when he did, meaning he became the very first man in tennis history to hold all Majors on three different surfaces.
If that wasn't impressive enough, he also had the ATP Tour Finals title in his kitty at the time.
Rod Laver and Don Budge have previously won the Calendar Grand Slam before the Open Era began, meaning they won all four Majors in a single year. In fact, Laver accomplished the feat twice, in 1962 and 1969. However, back then hard courts were not around.
Career Golden Masters
There are a total of 9 Masters titles in a tennis season. Novak sits alone as the only man to have won all the Masters 1000 titles on the ATP World Tour. In the 30 year history of the Masters 1000 series, Djokovic is the only man to do so. It was the Cincinnati Masters that evaded the Serbian for a while, but in 2018, he finally won it to complete his Golden Masters.
Roger Federer has seven of the nine Masters, missing the Monte-Carlo and Rome Masters, both of which are on clay. Rafael Nadal too has seven of the nine, having never won the Miami Open and Paris Masters in his career.
Hat-trick of Sunshine Double
The Sunshine Double is when a player wins the Indian Wells Masters and the Miami Masters in the same season. It is one of the most difficult achievements in tennis. Novak has won the Sunshine Double an unprecedented 4 times in his career. Not only that, the Serb won 3 of those 4 doubles in consecutive years from 2014 to 2016.
Winning it once is a huge ask in itself, winning it four times is near impossible. It is highly unlikely that anyone will manage to repeat this feat.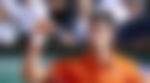 More points than 2nd and 3rd rank
Novak Djokovic was on a mission in 2015 and 2016. He was near invincible until after the Roland Garros. When he did finally lift the French Open title in 2016, his tally of ranking points reached 16,950. This was more than the addition of the No. 2 (Andy Murray 8915 points) and No. 3 (Roger Federer 6655 points) ranked players.
Now that is pure dominance.
Sadly, what followed with Novak's form was inexplicable and remains one of the biggest shocks in sports history.
Most wins against top 10 in a season
In 2015, Djokovic was a titan. He absolutely shredded the top 10 in the world that year with a record 31 victories against them. In that 31 wins, 6 came against Andy Murray, 5 against Federer, 4 against Nadal among others. He had the other nine players shivering with fear with his brilliance.
Fastest ATP Tour Finals qualification
Novak Djokovic went on a 43 match winning streak from the start of the 2011 season. He qualified for the ATP World Tour Finals after just 18 weeks and 6 days!
Unsurprising then that his 2011 season is considered to be one of the greatest seasons in tennis history.
30 consecutive match wins in Majors
ADVERTISEMENT
Article continues below this ad
During the 2015-16 time period, Djokovic went on a mind-boggling 30 match win streak in Grand Slams. It all started at the 2015 Wimbledon and culminated in the Serb winning the French Open in 2016, to hold all four Majors. Nole finally lost in the third round of the 2016 Wimbledon to Sam Querrey.
Men's tennis has never seen domination of that degree in the Open Era.
Most elite level titles won in a year
ADVERTISEMENT
Article continues below this ad
Once again we go back to the year 2015 for an unbelievable record. Djokovic won 10 elite level events in 2015, leaving almost nothing but scraps for all his rivals. The titles included all Majors except Roland Garros, Indian Wells, Miami Masters, Monte-Carlo Masters, Rome Masters, Shanghai Masters, Paris Masters and the ATP World Tour Finals.
Is that a jaw-dropping list or what?