Novak Djokovic vs Rafael Nadal – The Greatest Rivalry Explained in Numbers
Published 12/30/2019, 12:30 AM EST

Follow Us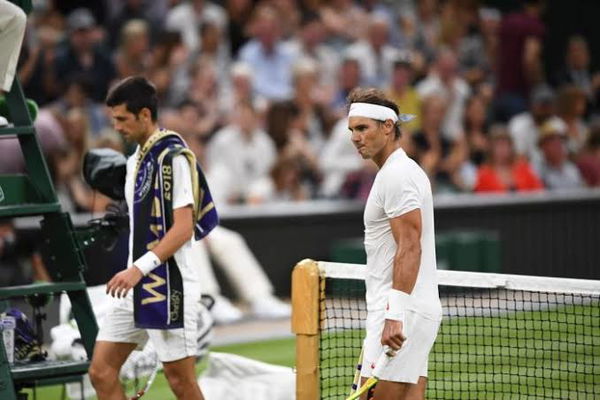 Novak Djokovic, Rafael Nadal and Roger Federer, or the Big Three, as fans refer them to as, have dominated men's tennis for the last two decades, winning 61 Grand Slam amongst themselves. 
ADVERTISEMENT
Article continues below this ad
While each of the three players shares a great rivalry with the other, Rafael Nadal vs Novak Djokovic is the most prolific and enduring rivalry of the tennis Open Era. The 'Djokodal' rivalry is widely considered to be one of the greatest rivalries in the sport's history. 
ADVERTISEMENT
Article continues below this ad
Novak Djokovic vs Rafael Nadal: Head-to-Head
The two have faced each other 58 times in their careers. Their first meeting on the ATP circuit was the French Open 2006 when Nadal seeded 2, was defending his first title and Djokovic was an upcoming player ranked World No. 63. Though Djokovic retired from the quarter-final after losing the first two sets 4-6, 4-6, this marked a turning point in history for these two players.
How many times has Nadal played against Djokovic?
The Serb leads the Spaniard in their head-to-head 30-28, and given the level at which the two still play, one can be sure that there are some meetings yet to take place. They have met in the finals of all major tournaments, Nadal leads at majors, with 10, to Djokovic's 7. Djokovic leads in finals 15-13 in finals that they have played.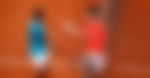 Head-to-head record by surfaces
Out of their 58 matches, 27 have been on hard courts, where predictably, Djokovic leads 20-7. On the clay, they have met 27 times as well, and Nadal, also called the "King of Clay" for his continued success on the surface, leads 19-8. On grass, they are tied, having won 2 encounters each.
At the majors, Nadal leads 7-2 at the French Open (and having beaten Rafa twice in the Parisian Slam is no mean feat) and 2-1 at the US Open. Djokovic takes the cake in the other two Grand Slams, leading at the Australian Open, 2-0 and at Wimbledon 2-1. Till date, Djokovic remains the only player to have defeated Nadal on all the four Grand Slams.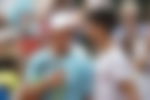 Rafael Nadal dominated the first few years of their rivalry from 2006 to 2010, leading 16-7. But Djokovic soon found himself on the rise, leading 19-7 in the years between 2011 to 2016. Since 2017, however, they have been more or less equal in terms of performance, but Nadal leads 5-4.
Between 2011 to 2013, the duo met at a record 11 consecutive championship matches, including 4 consecutive Grand Slam Finals. They also played against each other in 29 masters matches.
Nadal vs Djokovic Rivalry:

Epic meetings

Having been at the pinnacle of success when it comes to the ATP tour, the Serb and the Spaniard have had some truly epic encounters. Some of the matches they played against each other are considered by experts and fans as all-time great matches of tennis.
The greatest match ever played between the two: 2012 Australian Open Final
While it is difficult to objectively judge the greatest match between the two given the tremendous level of skill that both of them display, many believe that the 2012 Australian Open final was the one. Novak Djokovic and Rafael Nadal, ranked World No. 1 and 2 respectively, battled it out in the Rod Laver Arena. Djokovic won the match, 5–7, 6–4, 6–2, 6–7(5-7) , 7–5, in what is to this day, the longest Grand Slam final in history, clocking 5 hours 53 minutes.
This match was the third straight Grand Slam final between Djokovic and Nadal. With the win, Djokovic brought his winning streak against Nadal to seven, all of which were in finals, with three being Grand Slam finals. While the scoreline might indicate that it was a regular five-set match, the players were so tired by the end of it that chairs were brought out for them during the presentation ceremony.
"I really understand that was a really special match, and probably a match that's going to be in my mind not because I lost, no, because the way that we played," Nadal said.
Djokovic in his acceptance speech resonated Nadal's view of about the level of tennis they displayed. "It was obvious on the court for everybody who has watched the match that both of us, physically, we took the last drop of energy that we had from our bodies, we made history tonight and unfortunately there couldn't be two winners," he added.
2010 US Open Final
At the 2010 US Open finals, Nadal was aiming to complete his Golden Career Slam. The Spaniard clinched the title after defeating Djokovic 6-4, 5-7, 6-4, 6-2. He became the fourth man in the Open Era to complete a Career Grand Slam and the second man in the Open Era to complete a Career Golden Slam. The scoreline hardly reflected the depth and quality of the match, which closely resembled a heavyweight boxing match.
2011 Wimbledon Championships Final
In the 2011 Wimbledon Championships final, Djokovic was looking for his maiden title. Nadal was the favourite to win the tournament as he was on a 20-match winning streak at the All England Club despite Djokovic coming into the match with four final victories over his opponent. Novak answered the critics with a four-set victory and became the first Serbian man to win Wimbledon. He also overtook Nadal for the No. 1 ranking for the first time in his career.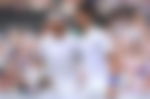 2011 US Open Final
In the rematch of the 2010 US Open final, Nadal entered the match as the defending champion, but Djokovic had defeated Nadal in the past five finals. As expected, in a match lasting 4 hours and 10 minutes, Djokovic defeated Nadal for a sixth consecutive final victory over his rival. With this victory, Djokovic became the sixth man in the Open Era to win three of the four majors in the same year.
2012 French Open Final
This match was the fourth straight major final between Djokovic and Nadal. There were several delays because of the erratic rain, but none lasting more than an hour. With Nadal leading by two sets to one, and Djokovic leading 2–1 with a break up in the fourth set, the match was suspended due to rain. Djokovic had gained the momentum, having won eight games in a row prior to the suspension of the match. However, Nadal responded well as he took the fourth set, and ultimately the match.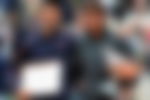 2013 French Open Semifinal
This match is considered by many to be one of the greatest matches to be played on a clay court. In a 4 hour, 37-minute long semifinal, Rafael Nadal got the better of Djokovic, but both of them displayed a superior level of tennis. The Spaniard ultimately won 6–4, 3–6, 6–1, 6–7, 9–7, and then went on to win his 8th French Open title.
2018 Wimbledon Championship Semifinal
Djokovic defeated Nadal in a thrilling five-setter which lasted over 5 hours, 15 minutes, and was played over two days. While Nadal had not reached the quarterfinals of Wimbledon since 2011, Djokovic was recovering from a long elbow injury. The match started late due to a six and half hour semifinal between Kevin Anderson and John Isner. After 3-sets with Djokovic leading 2-1, the match was halted as Wimbledon does not permit match play after 11:00 p.m.
Nadal then forced the match to the last set after prevailing in the fourth. In the fifth set, both players missed several breakpoint opportunities as the games went with serve till the first seventeen games. In the end, Djokovic broke Nadal's serve to love to seal the match with a 6-4, 3-6. 7-6, 3-6, 10-8 victory.
2021 French Open semifinal
The last time the two best players of all-time met were at the French Open semifinals in 2021. Having won the event a record 13 times, Rafael Nadal was the favourite to win the match. He also had the record of only two losses out of the 107 matches he had played at Roland Garros. But Djokovic defeated Nadal in a four-set encounter, which lasted 4 hours, 11 minutes. Playing with an injured foot, which forced him to end his 2021 season early, Nadal could not keep up with the Serb, who eventually won the title.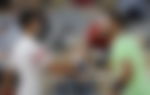 Nadal and Djokovic: a comparative analysis
They are arguably the greatest tennis players of all time, and pitting their achievements against each other is a tough task indeed, given how extensive their records are. Both of them also acknowledge the importance of the other, in how their careers shaped up to be, forcing each other to be better, to improve in order to challenge the other.
Which player has won more titles?
Both the players are still active in the tour, and it seems like even on the wrong side of their 30s, they are far from hanging their boots up. While it is impossible to predict who will end up with more career titles, by the end of their respective career, so far, it is Nadal who leads in this regard. Nadal has 90 career titles to his name, and Djokovic trails by only 4, with 86.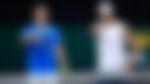 Similarities and differences in their games
Both the players are all court players, focusing on an aggressive game.
While Federer is often lauded for the beauty that is his one-handed backhand, it is arguably Djokovic who has the best backhand in business today. He is a right-hander, plays from the baseline and is an all-court player. He has commendable court coverage, agility and speed, and his defensive skills are also superior. Djokovic is known to prefer hard courts but has had tremendous success on grass as well.
On the other hand, Nadal too has an extremely aggressive game and his strengths are his uncanny ability to cover the court well, and his topspin heavy groundstrokes. He uses a full western grip forehand and is a left-hander, which often creates problems for his opponents. His top-spin dependent game is at its best on clay courts and he has an unparalleled record on the surface.
Net Worth
According to Celebrity Net Worth, Novak Djokovic's career earnings aggregate to $220 million. As of 2022, he has earned over $154 million in just prize money. He is, so far, an all-time leader in earnings when it comes to prize money.
Rafael Nadal has earned more than $127 million as prize money in his career. As per Celebrity Net Worth, Nadal is worth approximately $220 million as well. While he earns significant amounts from both his tennis career and his endorsements, he is also running a very successful tennis academy in his hometown of Mallorca – Rafa Nadal Academy. This is not only a passion project, but also an additional income source for the Spaniard.
Sponsorships
With huge success on the tennis courts also come lucrative endorsement deals. Novak Djokovic is sponsored by the apparel brand Lacoste, since 2017. Before this he used to appear on court in Uniqlo gear, the same brand that sponsors Federer now. His shoes are sponsored by ASICS. Djokovic uses racquets from Head, after switching to the company from Wilson.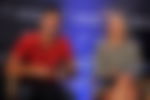 Moreover, he works as a sponsor for NetJets, Seiko Watch Corporation, and Peugeot. Djokovic also endorses Serbian telecommunications company Telekom Srbija, German nutritional supplement brand FitLine and is also the ambassador of Ultimate Software.
The Spanish former World No. 1 also has some longtime sponsors from his initial days on the tour. The second-largest automobile manufacturer of South Korea, Kia has been sponsoring their global ambassador since 2006. Nadal's gear and shoes are sponsored by Nike and he is also the international ambassador for Spanish biscuits and bakery manufacturers, Quely.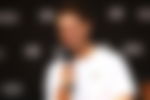 As a part of an endorsement deal with Richard Mille, he wears a sports luxury watch during his matches. Amongst his other endorsements are Babolat, the company whose custom-made racquet he uses on the court, Santander, Emporio Armani, Heliocare, Telefonica, Banco Sabadell, Tommy Hilfiger, Mapfre, and more.
ADVERTISEMENT
Article continues below this ad
Who is better Nadal, Federer or Djokovic?
Without a doubt, according to all the statistics available, the 'Big 3', are the absolute legends in men's singles tennis. The all-time best tennis players of the world have presented their fans, supporters and the world with such an intense and unprecedented era of dominance at the top level. Such is their collective greatness, that up until 2021, the three were tied at the top with 20 Grand Slam each.
Roger Federer heralded this era of brilliance, and his graceful but effective game style was soon challenged by Rafael Nadal, described by many as the 'Spanish bull.' Their rivalry was soon challenged by Djokovic, who forced it to become a three-way tie.
ADVERTISEMENT
Article continues below this ad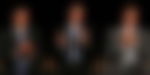 It is really difficult to ascertain who amongst the three is the greatest of all time, because of how close to each other they are in terms of records and stats. And, all of them are still active in the circuit, and until and unless they stop collecting titles like people collect stamps, it will be impossible to tell who the real GOAT is!