Novak Djokovic Wins 83rd Title at ATP Belgrade 2, Big Confidence Booster for French Open 2021
Published 05/29/2021, 9:46 AM EDT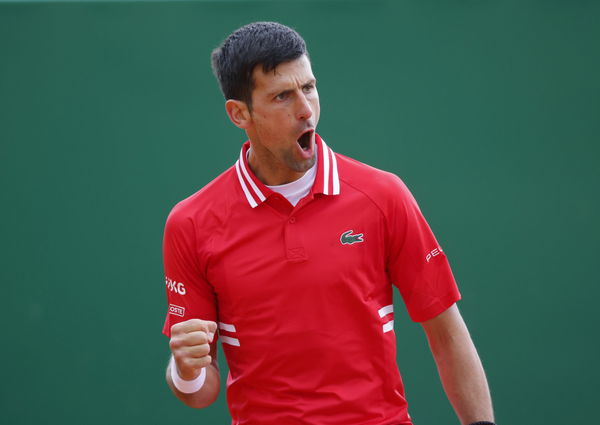 ---
---
Novak Djokovic picked up his 83rd ATP singles title and third title in Belgrade after he triumphed against qualifier Alex Molcan at ATP Belgrade 2 final. The Serb now will move to Paris to play French Open 2021.
ADVERTISEMENT
Article continues below this ad
Novak Djokovic and Alex Molcan play an eventful first set at ATP Belgrade 2
Djokovic was rather unsettled at the start of the match. Molcan was troubling him and was even able to break Nole in the first game itself using some clever play. However, the 23-year-old would return a break back and the opening set was leveled at 1-1. Djokovic led the opening set for the first time, 2-1, and Molcan followed it with a service hold to stay close to the Serbian.
ADVERTISEMENT
Article continues below this ad
At 2-2, Molcan changed his style to break Djokovic's rhythm. He used the drop shots very well and broke Djokovic, leading 3-2. The Slovakian tended to go long on his backhand, and that troubled him. As his tennis became predictable, Djokovic quickly took a break back and served well to lead 4-3.
The Serb made a good recovery from 3-2 down to serve for the set at 5-3. However, World No.1's unconvincing first serves brought in errors and gave a break back to Molcan, 5-4. The next service game had several errors from both the players, but Molcan made the errors at crucial times and Djokovic took the first set, 6-4.
Djokovic cruises ahead
Nole came with intent and won 12 points of the first 13 points on his service game to lead 3-2. Molcan was hanging with the Serbian as he played tight tennis. He certainly surprised Djokovic with his long-baseline strokes and the occasional drop shots. Molcan stayed with Djokovic until 3-2; however, on his serve, Djokovic forced Molcan to find the lines. Henc the Slovakian missed a few backhands and gave a break to Djokovic, 4-2.
ADVERTISEMENT
Article continues below this ad
Djokovic had his baseline strokes as well as the crowd's support. However, Djokovic again dropped his first serve and Molcan took the opportunity to break the World No.1. The second set again returned to service parity at 4-3. Molcan played long rallies with Djokovic. But the Serbian just had more steam and precision to break him again and serve for the match at 5-3.
ADVERTISEMENT
Article continues below this ad
Handling his serve well, Djokovic converted his second championship point to win his third title in Belgrade and the first title in 10 years in his home country. The scorecard read – 6-4, 6-3.